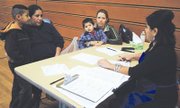 St. Joseph's Catholic Church gym was brimming with activity yesterday (Thursday) as the Point in Time survey and Project Homeless Connect brought people in need of assistance and various helpful organizations together.
Project Homeless Connect brought together approximately 25 representatives from various local agencies and 48 volunteers to assist local residents with the survey and finding much needed resources for assistance.
Throughout the gym, tables were arranged and stations set up to provide a variety of information for visitors at the event.
Along one wall, Neighborhood Health set up several tables to help people with immunizations, blood pressure and blood sugar checks, and much more.
On the opposite side of the gym was a clothing corner. Donations from across the Yakima Valley were set out and arranged for visitors to sift through and select from.
In between were services that catered to veterans, the unemployed and victims of domestic abuse, violence or crimes. The Department of Licensing had a table to provide information on driver licensing exams and WorkSource representatives were ready to address questions about employment, training, veteran benefits and much more.
"It's really about awareness," said Rhonda Marquez from WorkSource. "Not only for the people coming in to realize there is help out there but for organizations like us and other ones to become aware of each other so that we can help people."
Fred Hutchinson Cancer Research Center was conducting blood sugar screenings and by noon they had already served more than 26 people.
Representatives from the Extreme Weather Shelter were also present, providing visitors with children's story books, hats, gloves, cup-of-noodles and even baby food.
"People weren't really aware of this service," said Rhonda Flett from Sunrise Outreach, which helps run the Extreme Weather Shelters in Yakima and Sunnyside. She went on to say that the Project Homeless Connect was a great way to let people know that shelters are available in Sunnyside.
Candy WallaWalla from the Yakima Veteran's Center and Kelly Nielsen from the Yakima Housing Authority were also on hand to talk about the Veterans Affairs Supportive Housing program and provide veterans and their families with important connections.
"It's not enough to hand someone an apartment and say here, now you are no longer homeless," said WallaWalla. "Unless you've got somebody to support you and be there for you, and work with you on all these layers of problems, you're going to end up in the same mess again."
And halting this cycle of homelessness was on the minds of all the volunteers as they worked one-on-one with visitors, discovered their needs and connected them with the resources they needed.
Meanwhile, visitors filled out the survey, which asked basic questions about their living conditions and helped define what it means to be homeless.
Project Homeless Connect Coordinator for Sunnyside, Julia Hart, said that being homeless is not just living on the streets. Homeless people can be living in storage sheds, attics, basements or old RVs.
"If they're living on somebody's sofa, technically they're homeless," she said.
The Sunnyside survey, along with surveys held at three other staging sites across the Yakima Valley, will help identify the number of people in need. This is the project's seventh year in existence.
- Emma Fierro can be contacted
at 509-837-4500, or email
EFierro@DailySunNews.com