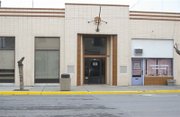 The Sunnyside Chamber of Commerce is banking on a location change to help make the organization a bit more visible.
The chamber will move from its current location on East Edison Avenue to a downtown location at 451 S. Sixth Street, the old Prudential building.
"The new building has more space and is a better location for us," Sunnyside Chamber of Commerce Director Pam Turner said. "It will make us easier to find."
The move to the downtown corridor will also bolster an internal effort to help revitalize the downtown area.
"We want to help it move forward," she said.
The current chamber location is small and Turner said the new location is twice the size of the old one.
Turner said she hopes to be moved into the new location by Feb. 11. She isn't sure if operations will be up and running by then because she must wait for phone, fax and internet service to get hooked up. Currently, Turner said she is packing and getting ready for the move as quickly as she can.
The decision to make the move was made last Monday by the chamber's executive board. The board had a variety of options to choose from, but Turner said the location on Sixth Street proved to be the best.
The rent is a bit higher for the new location. The chamber paid $425 for its current location, but will pay $650 a month for the Sixth Street building, an increase of $2,700 a year. However, the owners of the new location have agreed to pay for water, sewer and garbage.
But the benefits of the new building are what excites Turner about the possibilities.
"It's a much better location and a better looking facility that will represent Sunnyside," she added.