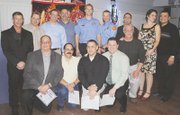 Sunnyside's career and volunteer firefighters were honored this past Saturday at a banquet and awards ceremony held at RC's Restaurant.
The firefighters gathered with their spouses to enjoy the evening, which included dinner and a raffle. But everyone was anxious to hear who would walk away from the evening with the top awards.
After handing out certificates to commemorate years of service, Fire Chief Aaron Markham gave out the awards for last year's top responder. Ed Laverman came in third for responding to 15 general alarms, Gary Pira came in second with 19 general alarms and the top responder award went to Chad Werkhoven for 22 general alarms.
Laverman was also presented with the Volunteer Firefighter of the Year award. Laverman accepted the award with simple thanks and sat amidst a resounding applause from his fellow firefighters.
Career Firefighter of the Year award went to Tony Castillo. Chief Markham called Castillo "somebody who is really devoted to our department" and listed Castillo's devotion to fire prevention education as one example of his commitment.
Castillo thanked the department for the award but said he shared it with fellow firefighters Ryan Savage and Sean Glasser.
"These guys have really dedicated themselves to the community," he said.
The Timmermans family was also honored during the event, beginning with the presentation of the late Bill Timmerman's barometer to his wife, Linda, and his son, David.
Timmermans served the Sunnyside Fire Department as a volunteer firefighter for more than 35 years before his death last winter.
His son David was also presented with a special award of recognition. He also served the department as a volunteer firefighter until moving away at the end of last year.