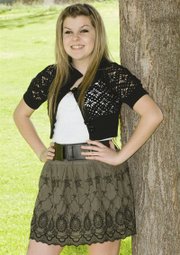 Seeking to provide younger Sunnyside residents with a positive role model, Taylor Jongsma is vying for the 2011-12 Miss Sunnyside title.
She wants to make a positive difference in the lives of community members, but most importantly younger residents.
Jongsma also wants to show those who know her that she can be more outgoing than they imagined, connecting with the community and those outside the community as a representative of Sunnyside.
For her community project, Jongsma would work with Lower Valley Crisis and Support Services. If named Miss Sunnyside, she would like to make the court available to serve clients by seeking out donations that would help feed and clothe families served by the center.
She said there are many clients of the counseling service who seek shelter with little to no resources at their disposal. For that reason, Jongsma believes it is important to promote awareness of the services and needs of the clients at Lower Valley Crisis and Support Services.
"I want to get the community involved, I want the clients of Lower Valley Crisis and Support Services to know the community cares about them," said Jongsma.
She said she would solicit food, clothing and toy donations to help those served by the crisis center.
"I want families to have meals for the holidays," Jongsma said, stating she has not been in situations like those served by the center, but is especially concerned for the children.
"Many of those served there are children and domestic violence victims," Jongsma said, stating she wants the youngsters to feel safe and loved.
Her love of children is what gives her the desire to seek a law degree. She wants to attend Eastern Washington University or the University of Washington to earn a degree in law so she can help victims of childhood abuse.
"I want to be an advocate for them," said Jongsma.
"I've never understood how adults can abuse children and I want those children to know someone cares for them and is willing to fight for them," she said, adding she wants youngsters who have been victimized to know they have rights and there are positive, loving people in the world "...so their future can be made better."
Jongsma will be a junior during the 2011-12 school year and she is a football and basketball cheerleader. She has also been a member of Pep Club at Sunnyside High School.
Because of her cheerleading experience, she plans to perform a dance routine to a rock montage in the talent segment of the Miss Sunnyside Pageant.
Jongsma is the daughter of Kristi and Jerry Jongsma. She has four siblings; Ashley, Kaylynn, Jared and Matthew.
For the 2011-12 Miss Sunnyside Pageant her sponsors are Catalina's Hair Care and Jitterz Espresso.