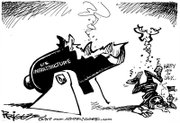 It's the Fourth of July holiday in the Lower Valley again, which means it's time for parades, cook-outs and a flurry of neighborhood fireworks in Grandview.
Grandview is one of the few cities that allows individuals to set off their own fireworks. Every year there is a watch out for fires that spark due to errant fireworks.
Last year a roof in Grandview caught fire and the loss could have been much worse. The resident wasn't lighting fireworks, but was victimized by someone else who didn't control their fireworks.
Not only can I imagine the concern of that homeowner, I've been there. The city we lived in before moving here at the time also allowed individuals to set off their own fireworks.
Every year we stayed home on the Fourth with water hose at the ready because of bottle rockets that would land in our yard and on our roof.
We never had a fire, thankfully, but each year we still had the chore of cleaning up firework debris in our yard that had blown over from someone else's yard.
Now I get to experience that in Grandview. We don't live in Grandview, but our church home is there and more than once I've swept up a pile of firework debris that someone left for us.
The upshot of all this is that it's time for Grandview to seriously consider banning individual fireworks. One home caught fire there last year and other years there have been near misses.
Yes, it's great to celebrate freedom on the Fourth, but we should do so safely in such a way that property owners don't have to worry if their home will be next on the fireworks hit parade.
And, yes, Grandview has avoided major fires in the past associated with the Fourth of July.
But with the city growing, now topping 10,000, why play with fire, why flirt with disaster?