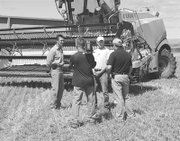 MABTON - It was lights, camera, moo! here yesterday as a public television crew filmed activity at Bill Wavrin's Sunny Dene Dairy Farm.
Filmmakers from PBS station KVIE of Sacramento, Calif. were in Mabton Thursday to feature Wavrin's dairy for the America's Heartland television series.
"Our goal is to educate non-farm viewers and help them better understand where their food, fuel and fiber come from," series producer Michael Sanford said during a break in filming on the Wavrin farm.
Wavrin was happy to tell the story of his farm, which includes wheat and corn fields to feed his cattle.
"Ag has done a great job of producing food, but a poor job of communicating with the customer," Wavrin said in between sound bites for PBS. The documentary, he added, is a chance to tell that story "from the seed that goes into the ground to the milk that comes from the cows."
The Sacramento crew found out about Wavrin, a practicing veterinarian in addition to operating a dairy with 3,800 adult dairy cows, thanks to a tip by Mark Leader of the Washington Dairy Products Commission.
"They're always looking for something unique," Leader said.
Wavrin's situation is indeed unique, and he credits his crew - including brother and business partner Sid - for allowing him to wear two hats. "They're great people, a great staff," Wavrin smiled.
To help tell the Wavrin story for its viewers, the PBS crew yesterday also trekked to the DeRuyter Brothers dairy in Outlook, where Wavrin has assisted as a veterinarian.
Sanford said four other eastern Washington farms will be featured during the next season of America's Heartland, which features 22, half-hour episodes each year. Another stop this week, for example, will include a cherry orchard in Naches.
America's Heartland is the only nationally syndicated television show dedicated to agriculture.
The show's crew has traveled to all 50 states to share farm stories for its viewers. Sanford says it is all about "telling the story of American agriculture."
The story of Bill Wavrin and his farm will appear on PBS station KYVE in Yakima this November, as well as on RFD-TV.
To follow stories from America's Heartland, visit americasheartland.org