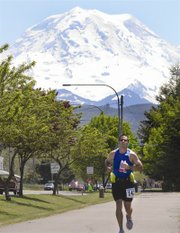 Fighting fires and saving lives would be enough adrenaline for most people, but not Sunnyside Firefighter Ryan Savage.
Savage took his namesake to a new level recently when he completed the savagely hard 50-mile run known as the Rainier to Ruston race.
That's an impressive feat, but what makes this accomplishment even more savagely impressive is the fact Savage only started running long distance races last year.
His first long distance race was the local 13-mile Sage Rat Run in the spring of 2010. After running the Grandview to Prosser race he started thinking about marathons. Savage checked that off his list last December, when he ran one in Sacramento, Calif.
Most people would have been happy with that, but Savage is not most people.
"I started looking for ultra-marathons after that," he said. "I heard about the Rainier to Ruston race from a couple of friends."
A 50-mile run is nothing to sneeze at so Savage decided to run 40 miles last January to see if he could do it. He could.
So what it's like running 50 miles?
"Extremely hard," Savage answered. "I was sore for a couple of days."
Savage said his legs had zero muscle response for a while after the race. Let's just say it took a savage effort just to get up a set of stairs.
"There was no spring in my step, I was pretty slow for a couple of days," he admitted.
Savage started the race at 7:30 a.m. and soon found himself off road in the trees. There was a portion early on when he was running through mud and water, which he said made the going even more savage. When he finally got out of the muck he still had 35 miles to go.
Around mile 20 he was able to change his shoes and socks. His wife, Heather, and his son, Colby, met him at each checkpoint to make sure he had plenty of water and food. Savage would eat protein bars and a substance known as Gu, which replaced sugar and electrolytes he had used up.
Once he had new socks and shoes, Savage said he felt like he had new legs. That came in handy around the 26-mile mark, when his legs began cramping. He quickly ate some salt, drank some fluids and began pacing himself. He tried to just get to the 37-mile mark, where his son was going to join him for the last stretch of the race.
"I knew if I could just hang on to the point where Colby was going to join me I would make it," he said. "It's kind of special and important for me to run it with him and I knew he would give me a fresh perspective."
Savage was one of 73 people to sign up for the 50-mile ultra-marathon. He finished 15th overall and 4th in his division. A total of 53 runners posted times.
So what's next for Sunnyside's most extreme firefighter? Well, it's something a bit more savage than a measly 50-mile race.
Although he won't commit to it, Savage said in the back of his mind he is thinking of trying an attempt to do the Western States Endurance Run, a 100-mile race in California's Sierra Mountain range. But it's something he's only thinking about.
"Its way in the back of my mind," he stressed.
More like this story