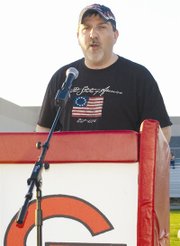 Sunnyside Mayor Jim Restucci was the featured speaker at the annual Fourth of July celebration held at Clem Senn Field yesterday (Monday) and he stressed the fact that the nation's birthday is more than just about freedom or independence, it's about American spirit.
Restucci started out the speech by quoting the United States' third president, Thomas Jefferson.
"Speeches measured by the hour...die by the hour," he quoted.
He also pointed to an observation his wife frequently makes, which is no one ever comes away from listening to a speech saying they wished it would have been longer.
"So, in deference to Mr. Jefferson and Mrs. Restucci, my message to you will be brief and to the point," he quipped.
Restucci said the Fourth of July celebration is the one day America comes together to recognize the extraordinary success of a bold experiment in democracy. On this day, he said, the country celebrates not only an idea that captured the imagination of a people ready to make a new country, but also the birth of an ideal that serves as an inspiration to people throughout the world.
Restucci said Americans from all walks of life spend this holiday with family and friends enjoying cookouts, parades and fireworks. But, he added, it is important for Americans to revisit the uniqueness of the American spirit.
"This trait is a gift we can renew throughout the year at various times, but especially today," he said.
After representatives from the Second Continental Congress voted in favor of the Declaration of Independence in 1776, Restucci said they knew the historic importance of their actions. John Adams, he said, would go on to write a letter to his wife predicting the Declaration of Independence would be celebrated by succeeding generations as a great anniversary festival.
"He envisioned the day being commemorated with pomp, parades, shows, games, sports, guns, bells and bonfires, from one end of the continent to the other," Restucci said. "Pretty optimistic thinking, when you consider that those early Americans did not inhabit much of the continent, let alone where I am standing this evening."
It all started with the Revolutionary War and a talented collection of public servants. It was John Adams, Thomas Jefferson, Benjamin Franklin and James Madison who all risked their fortunes, their reputations and an invited trip to the gallows to make the experiment known as America work, he said.
The Continental Army was short on everything, except what mattered most, which was leadership, he added.
"Without the superb leadership of patriots such as General George Washington, this land would have one less holiday to celebrate today," Restucci declared.
After 235 years Restucci said he is still amazed at the remarkable story of the United States' birth.
"On this, the anniversary of that day, I hope we all will commit anew to these values, even if we don't have to mutually pledge to each other our 'lives, our fortunes and our sacred honor to accomplish it," he said.