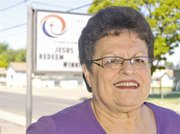 For a decade Karen Helsel preached and counseled the flock at Sunnyside Church of God.
Now in retirement she is launching out into a new venture as a certified mental health counselor.
"I liked preaching, but I am not a church administrator," Helsel said of her preference of offering Christian counseling. "It's life giving."
Helsel recently completed a state certification exam, as well as training to complement the degree she received in psychology and Christian ministries from Anderson University in the 1990s.
She points out that though certified she's not a licensed counselor and as a result she is unable to provide a diagnosis or bill insurance companies.
Helsel notes that those who attend Sunnyside Church of God, now known as Oasis Community Church, can receive counseling for a discount.
Starting in August she will see clients on an appointment basis. To contact Helsel or set up an appointment call 509-305-3180.
As a certified counselor, Helsel said she receives ongoing input from Rosemary Wrung of Sunnyside, who is a licensed mental health therapist.
Helsel said she will practice Biblical counseling, specializing in marital, grief, mild depression and co-dependency issues.
She notes that her counseling service will be affiliated with the Oasis church.
"We have a focus on ministering in the community and that fits well with I'm doing," Helsel said.
While counseling will help her clients, Helsel readily admits it takes more.
"There are some things I can give you as tools to help, but God heals," she says.