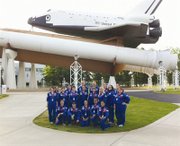 HUNTSVILLE, ALA - Chief Kamiakin Elementary School teacher Jessica Schenck recently completed the Space Academy program at the U.S. Space & Rocket Center in Huntsvile, Ala.
Schenck was one of 250 teachers from 27 countries and 47 states who received scholarships from Honeywell to participate in last month's program.
The focus is on providing teachers with new techniques to educate their students about science and math.
The program, called Honeywell Educators @ Space Academy, included astronaut training and simulated missions.
"On our second mission I was assigned to the International Space Station where I got to suit up for a simulated space walk outside the module," Schenck said. "I also did experiments while inside the ISS."
On another simulated mission, Schenck piloted an orbiter.
During their two weeks at the U.S. Space & Rocket Center, Schenck and the other teachers also participated in classroom, laboratory and intensive real-life astronaut training sessions.
Those sessions, in turn, are linked to science and math teaching standards that include:
· A high-performance jet simulation
· Scenario-based space missions
· Land and water survival training
· State-of-the-art flight dynamics program
· Mission Control exercises
Schenck said she stayed an extra day to take additional classes from the Civil Air Patrol. "As part of this day I got to go up in a Cesna airplane and even fly the plane for a bit," she said.
Schenck and the other Honeywell-assisted educators received full scholarships after completing a rigorous application and selection process involving competing teachers from around the world.
Scholarships include tuition for the six-day program, roundtrip airfare, meals, accommodation and program materials.