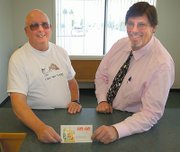 It started back in March of this year when local mail carrier Connie Farrell went out to deliver a letter to 521 South 8th Street in Sunnyside. When she realized that there was no house at that address, only the parking lot south of the fire department, she took the letter to Postmaster Larry Dekker.
Upon further examination it was noted that not only was there no such address, but the letter was postmarked from Melbourne, Australia on August 28, 1963.
Dekker asked around but no one recognized the name or remembered what had been at that address. Dekker thought the local newspaper might have the answer and dropped by with envelope in hand. He asked if the person to whom the letter was addressed, a Robert Dale Griffioen, rang a bell.
Thinking it might be a typo and should have read Griffen, or Giffen, knowing Noble Funk had a good memory for places and people from Sunnyside and that he had married Cassie Giffen and ran Giffen's Dept. Store for many years, Funk's help was recruited.
Funk didn't recognize the name at an informal coffeeget-together of friends at a local restaurant, so the letter was passed around to different individuals, each coming up blank until it reached Herman TeVelde. TeVelde recognized the last name, Griffioen, as one of the past pastors of the local Christian Reformed Church (CRC). Once this was said others in the group noted that the original CRC Church was located on South 8th Street near the present day fire station. TeVelde thought that local retired farmer and long-time church member, Harry Visser, might remember the family.
When Visser was given the letter he not only remembered the family, but said the pastor's house sat next to the church and that Robert, or Bob, as he was known at the time was the youngest of five children of John Griffioen, who was the pastor of the CRC from 1953 to 1965. The church at that time was located on Franklin Avenue between 7th and 8th streets. Visser had no idea where the former pastor's son, Bob, might be, but had been in contact with Bob's older brother Don over the years. Don had been a pastor in Grand Rapids, Michigan.
Visser that same day was able to come up with a phone number and email for Don.
An email was sent to Don, which he responded to and provided an email address where brother Bob could be contacted. After a quick email and a response back from Bob it was found out that he and his wife Toni do a lot of traveling and reside in California for six months and in the area of Southworth, Washington where they maintain a post office box, and would not be returning until May of this year.
Well, time slipped by, the letter remained in the hands of the postmaster, but in early June an email from Bob arrived, saying he would be in town for a brief time on the 17th. Arrangements were made with Larry Dekker to meet and get the letter to its rightful owner.
Bob Griffioen and his wife Toni showed up on time and the letter was proudly delivered by the local postmaster.
As to why the letter was sent in the first place? Well, it seems that Griffioen started collecting stamps at about age 12. He subscribed to several cover services that sent him first day of issue envelopes with new stamps on them. This particular one was from Wesley Cover Services.
He continued to collect stamps up until shortly after he met and married Toni in 1967. He had started a plumber/steamfitter apprenticeship, lost interest in collecting and sold his entire stamp collection for $400 in 1968.
The pastor's son went on to work for Lockheed and at the Puget Sound Naval Shipyard. Toni and Bob raised two boys and retired in 1999. Since that time he and Toni are on the road most of the year traveling with friends.
The question of where the letter had been for the past 47+ years still lingers. Dekker thinks it was probably hung up in a chute or caught in some machinery somewhere. Exactly why the letter was delayed will never be known.
One of the odd things about it that Dekker pointed out was that it made it all the way to Sunnyside without a zip code. The zip code was introduced July 1, 1963, but had not been universally adopted at the time the letter was mailed. Dekker noted that it had one unusual marking that wasn't original issue. It seems once it made it into the modern-day system it was read by the scanners and a barcode was sprayed across the bottom of the envelope, making it a unique piece of history.
When asked what he would do with the envelope Griffioen said, "I'm going to frame it and hang on to it...it will go to one of my children or grandchildren."
So with a handshake and a smile Sunnyside Postmaster Larry Dekker was able to complete the mail process by personally handing the letter to the addressed recipient, even though the home itself was long gone.