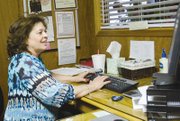 Clients of Sunnyside's Diet Center don't just lose weight, but learn to change their lifestyles thanks to Diet Center Counselor Linda Benjert.
She said it is a team effort getting clients to meet those weight-loss goals.
"A new start (new client) is advised their purpose is to learn how to be a healthy individual," said Benjert.
She said many new clients are learning how to live a lifestyle they should have learned to live when they were younger.
They are learning diabetes, high blood pressure and heart disease are all preventable illnesses. Although genetics may play a role in whether or not the individual suffers from one or more of the illnesses, most have poor eating habits that are the main cause of the suffering.
Benjert began counseling Diet Center clients approximately 18 months ago.
She said she was an employee of Vibrant Lifestyles in the Tri-Cities and learned a lot about the lifestyle changes that are necessary to improve one's health. Her mentor is Mary Van de Graaf, who owns both businesses.
"The more I learned, the greater my desire to help individuals overcome weight and health issues," said Benjert, stating she enjoys helping people who need to lose weight.
"I like directing them in nutrition and exercise, leading them to a healthier lifestyle," she said.
Benjert knows what she is talking about first-hand. She has three times been a Diet Center client and knows the struggles clients face on a daily basis.
Her experience helps her relate to those who come to her for help with their health issues.
"The best part of the job is seeing a client succeed in losing weight, knowing it is the result of a team effort...we helped the client achieve their goal," said Benjert.
To reach the goal, she said a plan must be developed with a focus on eating healthy foods like fruits, vegetables, dairy products and high protein foods. The foods are supplemented with Diet Center products, teaching the client's metabolism to adjust to the dietary changes.
"People don't realize they eat too many carbohydrates...a can of pop contains two-thirds a cup of sugar...Red Vines advertises fat free, but there is one teaspoon of sugar in a serving," said Benjert.
She also said labels that advertise sugar-free should also be examined because often the fat content of the product can be high.
In the Diet Center fare, supplemental foods include protein bars or shakes.
"The goal is to help the client meet their goals with a plan that keeps blood sugar levels consistent through the day," said Benjert.
She said people tend to eat when their blood sugar drops.
To keep it regulated, a person should eat a light breakfast high in protein. Benjert said the protein bars or shakes serve in that capacity.
Clients are also advised to drink 96 ounces of water each day to keep healthy.
A mid-morning snack, light lunch, mid-afternoon snack and dinner before 6 p.m. are also on the plan of a typical new client. The snacks and lunch typically consist of the protein bars or shakes to keep the client on track with meeting their goals.
Challenging for Benjert is often helping each individual discover how their eating habits are adversely affecting their health.
She said a food journal is important for that reason. Those who keep a food journal can track their eating habits and Benjert can tailor an eating plan accordingly.
"It's about being true to one's self," she said.
"This is for you (the client), not for me. Your success is my success," said Bejert, adding, "I'm doing a good job if they are successful."