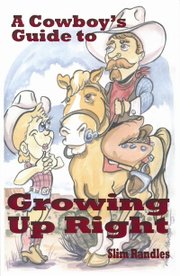 I'm one of nearly two-million people who pick up newspapers weekly to read 'Slim Randles' Home Country, a nationally syndicated column. I get my dose of cowboy insight and humor in the Daily Sun News on Wednesdays and Fridays.
Now, Slim's wisdom has been packaged between the pages of a new book, A Cowboy's Guide to Growing Up Right. And this cowboy has a hit on his hands.
Starting with the cowboy premise that "there is a great deal more to being a grown-up than getting tall and inheriting the ability to reproduce", Slim lays out a blueprint for life, all in the name of guiding young men and women to the "pinnacle of evolution", which is how Randles describes a cowboy.
Slim promises that his little book (61 pages) can help the reader (male or female) become "an adult cowboy, a grown-up able to spit in the eye of evil and sloth, and be respected, perhaps revered, for your independent thought and kindness to others".
A horse and saddle is not required for the journey. But, perhaps, a willingness to expand your horizon is.
Randles is quite serious about wanting to help people be all that they can be, and is equally serious that cowboy values are the tools that ease the way.
Just what are cowboy values?
Knowing that life is opportunity, not entertainment, might be one. That's the title of one of the chapters in Randles' book. Another chapter is entitled Do the Right Thing, even when no one's looking.
Then there's a reminder Slim tacked onto the end of a chapter: "You can't do it alone, but you can do it."
And, surprisingly, in just 61 pages this mentor and author tells the reader exactly how he or she can do it...whatever 'it' happens to be in their lives. He also gives explicit and heart-warming examples of others who have passed the cowboy test.
Rocky Earick, a cowboy and packer from whom Randles learned horseshoeing, has this to say about the cowboys' way: "There's things we do just because they're right, and things we don't do just because they're wrong. That's just the way it is."
The best thing about A Cowboy's Guide to Growing Up Right is that the author's words are from friend to friend in a kindly, honest, cowboy kind of way.
And the man can write. The way he strings his words together is a joy to the reader.
Actually, reading the book for this review was my second go-round with A Cowboy's Guide to Growing Up Right, even though it is a new book this year, published by Rio Grande Books of Los Ranchos, New Mexico. I first read it a couple of years ago, and that reading came about in a rather odd way.
I had e-mailed Slim Randles to tell him how much I enjoyed his column in our daily paper, but he looked beyond the praise and our 'talk' quickly turned to a troubled boy I knew who was finding the road to adulthood a rough and lonely trail. That was when Randles told me about this book he had written. It was still in manuscript form and awaiting a publisher. He offered to e-mail it to me so I could read it and then send it on to the boy. "It might help," he said, in his friendly, kindly, cowboy kind of way.
So that's when I read A Cowboy's Guide to Growing Up Right the first time.
I liked it then; I love it now. From experience, I can say this book is a beacon of hope in troubled times.
To those who dare to consider taking the trip to become an 'adult cowboy', Randles leaves them with these words of encouragement: "Best of all, you'll blossom into the kind of young man or woman that you'll be proud of. You'll establish a legacy of honesty and integrity and loyalty that you'll be able to pass on to your children someday. The cowboy legacy."
Slim Randles is a man of many talents with a host of mentors and friends. He tells us he learned mule packing from Gene Burkhart and Slim Nivens, mustanging and wild burro catching from Hap Pierce, horse training from Dick Johnson and Joe Cabral...and humility from the mules of the eastern High Sierra.
In addition to his syndicated column, Randles has had a long writing career as a newspaper reporter and author of magazine articles and books, both fiction and non-fiction, and has taught a magazine writing class at the University of New Mexico. He tells us that he lives in Albuquerque, New Mexico, and in a small cabin in the middle of nowhere at the foot of the Manzano Mountains.
You can buy a copy of A Cowboy's Guide to Growing Up Right for $8.95 from Rio Grande Books at 505-344-9382 or online at info@nmsantos.com . It's the kind of book that would make a great gift for those struggling to find their way. If you happen to be in Albuquerque, New Mexico on Saturday, Sept. 3, Slim Randles will be at Wagon Mound Ranch Supply from 11 a.m. to 2 p.m. to sign that book for you.
- Frances Potts is a retired
journalist, editor and publisher
who now resides in Sunnyside.
More like this story