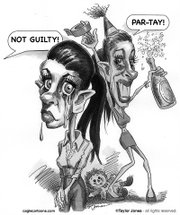 Last week Grandview police were called to a home where a boy just old enough to begin kindergarten this year exhibited signs of being extremely brutalized.
This past Tuesday in Florida, the nation was shocked when Casey Anthony was acquitted on charges of killing her two-year-old daughter.
It seems to me someone missed something along the way in both cases.
The young Grandview boy had apparently sustained beatings over an extended period of time, based on reports of scabbed-over wounds and bruises that had turned yellowish in color, meaning his injuries weren't all new.
In the Anthony case, I believe, as do many others, the young mother was guilty of doing something to cause her daughter's death, even if it was by accident, which should have brought a manslaughter conviction.
The Grandview boy's injuries were severe enough that someone needs to do some serious jail time.
I don't understand how adults can lose control to the point of harming children in such a way. Yeah, young children can cause us to go batty at times, but beating on them, or worse yet killing them...how difficult is it to show some self-restraint? What kind of personal demons are in people who commit such acts?
With the Grandview boy, considering some of his wounds weren't freshly inflicted, why weren't police or CPS officials notified by friends or family members of the couple who was raising the child?
In the Casey Anthony trial, if she wasn't guilty of some wrongdoing in regard to her daughter's death, why did she not report it or seek help for the toddler on the date the youngster disappeared?
As citizens who believe in providing a safe haven for children, I believe it is our responsibility to be aware of what is happening in the lives of the youngsters with whom we come in contact.
I know there is sometimes a fine line between discipline and abuse. I am aware some people are overly diligent in reporting discipline as abuse. But, I also believe the signs were clear regarding the Anthony case and the Grandview case.
We could all learn to be more vigilant, protecting the children in our lives and in our neighborhoods.