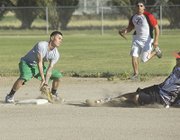 Pure Mayhem/Sports Center swept Team Impact this past Tuesday in Lower Valley Men's Softball League play, thanks in part to Dave Kleinow.
Kleinow hit three home runs in game one as Pure Mayhem/Sports Center beat Team Impact 19-16. Coach Joe Trevino said Blake McFarren and Fidel Castro Jr. also had good games in the opening tilt.
Team Impact was led by Dave Palomarez in game one. He went 4-for-4 with one home run. Timmy Briones was 2-for-4 with a grand slam for Team Impact and Jeff Serl hit a solo homer.
"We had them early, but fell apart," Team Impact Coach Gilbert Briones said. "They came back."
Game two was much closer, but Pure Mayhem/Sports Center pulled it out by a score of 11-10. In this game Trevino said Chauncey Pena and Steven Sanchez both had good games. Stats were unavailable from Pure Mayhem/Sports Center.
Dave Palomarez continued his good play in game two despite the loss. He went 3-for-4 at the plate enroute to hitting three homers. Nick Uribe was 3-for-4 and Anthony Palomarez was 2-for-4 with a double.
Pure Mayhem/Sports Center had Thursday night off and a doubleheader scheduled between Bob's Drive-In/Crush and Team Impact was postponed.
Bob's Drive-In/Crush did play this past Tuesday, beating Columbia Crest twice.
Columbia Crest had to forfeit the first game due to lack of players and then lost game two outright by a score of 13-0. The game lasted just five innings due to the 10-run mercy rule.
Bob's Drive-In/Crush Coach Martin Sanchez said his players all had an outstanding game in the nightcap. Bob Sarmiento Jr., Martin Sanchez Jr. and Aaron Van de Graaf all went 3-for-3 at the plate.