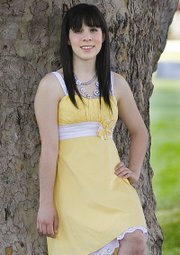 Sunnyside's Danielle "Danie Jo" Kranz enjoys the community in which she has lived her entire life and is seeking to represent the city as the 2011-12 Miss Sunnyside.
She said there is a positive image that is often overlooked when outside communities think of Sunnyside. Kranz wants to share that image with those communities.
"It's a way to give back to Sunnyside," she said.
Kranz will be a junior at Sunnyside High School this coming fall. She will serve as the student representative to the Sunnyside Parks and Recreation Commission as another way to serve her community.
She is also a member of the state title-holding SHS Grizzly Dance Team and is an active drama program publicity chair at the high school.
"I'm on the executive council, a leadership class student and will serve as junior class treasurer," said Kranz.
If selected as Miss Sunnyside, she would like to work with Sunnyside Police Officer Melissa Rodriguez, teaching younger students about the dangers of a gang lifestyle.
"I want to work with the GREAT (Gang Resistance Education and Training) program," said Kranz.
She said the program is important to her because younger students don't necessarily understand the gang lifestyle is not as glamorous as they might believe.
"I have seen first-hand the impact it has on our youth," said Kranz, explaining she has known of several SHS students in the class of 2012 and 2011 who have either been killed or incarcerated as a result of gang life.
"Educating others is important for saving my generation," said Kranz, who is the daughter of Ted and Rosie Kranz.
She is the oldest of three children in her family and also believes it is her responsibility to set a good example for her younger sister, Jacquie, and younger brother, Johnny.
Following high school, Kranz said, she would like to pursue a career in theology or accounting.
"I find religion is an interesting topic and I would like to teach at a higher institute of education," she said.
Accounting is also interesting to Kranz because, she said, she enjoys math.
"I would like to be a CPA," she said.
Kranz has elected to give a vocal performance at the 2011-12 Miss Sunnyside Pageant. She said it is unique to the pageant this year in that no other candidate will be singing.
Although she is a skilled dancer, Kranz believes a vocal performance will help her stand out from the others.
"The pageant will be my first solo vocal performance," she said.
Sponsoring Kranz for the Miss Sunnyside Pageant are ViewPoint Dairy of Sunnyside, Elizabeth Lozano and Simply Divine Salon and Day Spa of Hermiston, Ore.