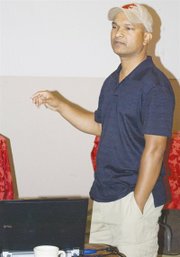 Washington State University-Tri Cities Researcher Bhaskar Bondada was on hand yesterday at the monthly grape fieldman's breakfast in Prosser.
He shared information regarding ripening disorders found in grapes, including berry shrivel, bunch stem necrosis, sunburn and dehydration.
"Berry shrivel is the one disorder you don't want...it's detrimental to the crop," said Bondada.
He said the typical physical aspects of grapes are severely changed when a vine suffers from a ripening disorder, but berry shrivel is the most harmful because the berries have very low sugars.
Outlining the anatomy of a healthy grape, Bondada said the outer surface will appear powdery from wax platelets that protect the fruit.
A healthy berry will appear spherical in shape, and juice cells are compartmentalized when one looks at them under a microscope.
Bondada said a vine that suffers from bunch stem necrosis is detectable via a visual inspection. The grape clusters will have voids and brown stems.
Sunburn is detected by discoloration of the fruit and dehydration can be detected when the fruit has skin that sloughs off the membrane or looks like a dimpled golf ball.
Bondada said bunch stem necrosis will make the skin appear raisin-like, but a vine that is afflicted with berry shrivel is detected by the appearance of "flaccid, folded skin."
"The whole berry appears to be deflated," said Bondada.
Berry shrivel, sometimes called SAD (sugar accumulation disorder), prevents sugars in the fruit from increasing to desired specifications.
"Ripening is suppressed," said Bondada, stating growers do not desire "sour grapes," neither do the birds.
He said the disorder is recognized worldwide.
"We don't know the cause of the disorder," said Bondada, noting he and grad students working with him are researching the disorder with hopes of discovering the cause.
"A lot of people confuse bunch stem necrosis with berry shrivel," he said, advising those gathered at yesterday's meeting to take note of the stem coloring.
"If the stem is brown, it's most likely affected by necrosis," said Bondada.
On the other hand, if the stem is green and the berries appear deflated, berry shrivel is likely the culprit.