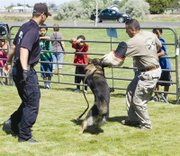 Sunnyside fire, police and EMS officials teamed up this past Saturday for what was called the first-ever combined public safety fair.
Children and their parents came to the Law and Justice Center to check out the event, which included a program by the police department's K-9 program, as well as offering help with installing child safety seats, fire hose drills, visits in a police car and jail van and a free lunch.
"The public sees us when something bad has happened," said Charlotte Hinderlider, Sunnyside police spokesperson. "We really just want people to understand there's so much more than that."
Hinderlider added, "We're reaching out to elementary students because we want them to know who their responders are."
That outreach didn't end with Saturday's public safety fair, as future activities are planned.
As an example, the Sunnyside Police Department will hold a bike rodeo from 6 to 8 p.m. this Wednesday, July 13, at the Law and Justice Center.
The focus of that event will be to encourage bicycle safety. Hinderlider said that will include bicycle helmet safety. Children who do not have a helmet can receive one for free during the bike rodeo.
Looking ahead, she said the hope is that public safety outreach efforts like Saturday's will encourage more participation during the National Night Out event set for next month.
The aim for all of these activities, Hinderlider added, is three-fold. "Free, family, fun."