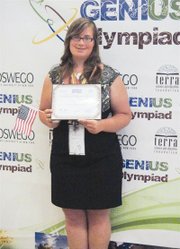 OSWEGO, N.Y. - Sunnyside science students, at both the middle school and high school levels, have long excelled when it comes to displaying their work at various competitions all across the U.S.
It's not shocking, then, that Sunnyside High School senior-to-be Cynthia Van Wingerden just returned from an international competition staged in Oswego, New York, with a bronze medal, plaque and I-Pod Shuffle firmly in hand.
"I wasn't surprised at all that Cynthia returned with an award," said SHS Science Teacher Joyce Stark. "Actually, I kind of expected it."
Stark explained that each year local students craft projects for the local science fair, then make minor adjustments as they advance on to regional, state and sometimes national competitions. The goal, she said, is to make improvements to their projects as they climb the competitive ladder, basically because the level of competition keeps rising.
Stark said Van Wingerden is a prime example of that, having finished third at the regional science fair, but after making a few changes in her presentation she walked off with the first-place prize at the Washington state science fair.
"Based on what Cynthia did at state, even though she was competing against some of the same students she saw before, as well as a lot of different kids who represented 32 states and 40 countries, I figured she would bring home some type of award from New York," said Stark.
The competition, known as the Genius Olympiad, was held the last week of June. The Sunnyside teen was accompanied to New York by her mother, Deanna Van Wingerden. Her father, John Van Wingerden, remained here while the pair took the cross-country trek. Because of how well she fared at earlier science fair competitions this year, Van Wingerden earned the invite to New York, as well as stipends for her lodging and meals while on the East Coast.
The Genius trademark for the international science fair olympiad is an acronym of sorts for: Global Environmental Issues - US. There are five divisions of competition...ecology & biodiversity, resources & energy, human ecology, removal of oil from water and environmental quality. It's the latter division in which Van Wingerden had her work entered.
Titled "Is a Biofilter a More Effective Way to Clean Wastewater than Aeration," Van Wingerden's work on the project left little doubt as to which method is the best for purifying tainted H20.
"The answer is YES, a biofilter is much more effective than aeration," Van Wingerden said resoundingly.
The science project she undertook basically measured five areas of concern when treating wastewater from a dairy lagoon...turbidity, nitrate levels, the dissolving of oxygen, pH levels and temperature recordings.
The biofilter, itself, consisted of recycling the tainted water through a garbage can, using a waterfall to keep what was at first a murky liquid flowing through the filter, until eventually the water was cleansed of unwanted particles. She filtered the water through two layers of pea gravel, which were separated by a layer of wood chips. It took four weeks of testing for Van Wingerden to come up with the answer, that aeration isn't nearly as effective as the use of a biofilter when cleaning wastewater.
The work Van Wingerden put in on the project has prompted her to enroll in an Advanced Placement chemistry class at Sunnyside High School this fall. She admits she leans more towards mathematical studies, but credits the success she's enjoyed this past year at the different science fair competitions, due in part to Stark's involvement, as the motivation to sign up for an AP chemistry class.
Due in part to the success she's enjoyed this past year, Van Wingerden has already chosen a research project for the 2012 science fair competitions, involving environmental engineering. Based on how she fared in 2011, it's a good bet Van Wingerden will be putting together a travel itinerary for 2012.