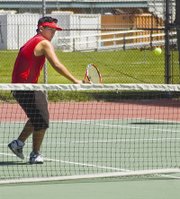 A lack of participants last year canceled the Sunnyside Tennis Club's annual tourney on behalf of the American Cancer Association.
This past weekend there were 27 players in the 29th annual tourney.
"After a no-show last year it's nice to get it going again," said Alenka Plesha, a long-time participant in the tournament.
Plesha said heat was a factor in a lack of player sign-ups last year, she said milder temperatures this year helped increase the number of registrations.
There were three categories for players to compete in during the 2011 edition of the tennis tournament.
In open doubles competition, the duo of Charlie Plesha and Richard Schilperoort swept through the field of six teams without losing a set on the way to winning the title.
After an opening round bye, Plesha/Schilperoort defeated Javier Aguilar/Keala Drollinger 6-1, 6-1. In the finals they faced Erica Mendez/Jaime Garcia and dispatched that duo by a score of 6-3, 6-2.
Though Mendez/Garcia lost the finals, they did go on to take the consolation round with a 6-4, 6-1 victory over Rodrigo Bonilla/Meagan Rodriguez.
Steve Diaz of Grandview prevailed in the men's open singles competition, outlasting Marco Diaz, also of Grandview, in the championship match by a score of 6-2, 7-5.
Diaz's path to the title started with a 6-1, 6-1 victory over Javier Aguilar, followed by a 6-0, 6-1 romp over Zeke Zamora. He then prevailed in the semifinals, winning 6-1, 6-1 over Jaime Garcia.
Zamora went on to take the men's consolation title with a 7-5, 6-3 win over Rodney Bauder.
The other competition this weekend was the women's open doubles, which was won by Regina Mendez and Alenka Plesha.
The duo prevailed in the round-robin format with a 6-0, 6-0 romp over Lydia Robert/Adilene Torres, a 6-2, 6-2 victory against Jerika Martinez/Erica Mendez and a 6-2, 6-0 win over Dolores Gomez/Tammie Laverman.
The real winner in this past weekend's tennis tourney was the American Cancer Society, as the 27 players combined to raise $1,670 to aid the battle against cancer.