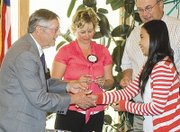 According to the new Rotary Governor for District 5060, Rotarians are the doers in today's society, the leaders of the community.
This is why, as Gary Hollingshead puts it, it's okay to rock the boat sometimes.
"Change is something we must do," the District Governor told the Sunnyside Noon Rotary Club on Monday. "There are things we can do better."
When Hollingshead was attending the governor-elect training seminar all Rotary District Governors go through, he said he was left with something very important. It's okay to rock the boat as long as you don't let it sink.
"If you see something that needs changing, change it," he told the Sunnyside club. "Rock the boat."
Hollingshead told the club the reason Rotarians exist is to serve others. They do this by supporting projects such as polio eradication and student exchange programs. Rotarians also help bring clean water to developing countries and assist people with climbing out of poverty.
"We need to reach within to embrace humanity," he said. "Look into your own heart, find out what drives you and use it to embrace humanity."
Hollingshead encouraged the Sunnyside Noon Rotarians to work on their communication skills by listening carefully and speaking clearly.
"We can be a catalyst to world peace," he said. "But we might have to stick our necks out once in a while."
He claimed there are one billion people living in the world on less than $1 a day. It's a problem that needs to be corrected and he believes Rotarians are going to lead the way in solving the problem.
"Dig deep, find that inner drive and then go out and use it," he told club members.
More like this story