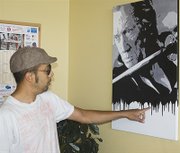 Turning studio photography on its head, Rick Deko was the featured artist during an opening night reception last Friday at Guerra's Coffee in Sunnyside.
Deko, who calls the Tri-Cities home, says he tries to give photography and other media an urban feel.
Deko said he was inspired by other artists who have mixed styles, and wanted to bring it to the Yakima Valley.
His pop-art inspired work includes acrylic and enamel paintings based on photographs, including some of his own model-based photography.
Deko's work interweaves other media, such as collage, graffiti and lettering.
He says the work is being well received.
"I'm getting good feedback, it's pretty positive," he said.
Deko says he's also glad to have his work on display in the Lower Valley.
"You don't see this kind of artwork around here," he said. "You can see it here now, not just on television and magazines."
Deko's work will be displayed at Guerra's through Aug. 11.