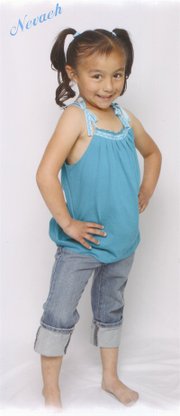 Nevaeh Elodia Palomarez, 7, of Sunnyside will compete for a Washington state National American Miss title later this summer.
The daughter of Sunnyside's Amanda Palomarez, the youngster will participate in the 7/9-year-old age division.
The state's National American Miss Pageant will be held Sept. 1-3 at Seattle's Hilton Sea-Tac Hotel. The pageant is open to girls 4 to 18 years of age. There are five separate age divisions of competition.
At stake this September for the Sunnyside girl, who'll be a second grader this fall at Sunnyside's Washington Elementary School, are a cash award, the state crown and banner, a bouquet of roses and air transportation to compete in the national pageant in California. If Palomarez earns the berth to the national pageant she will get to tour Hollywood and will receive two VIP tickets to Disneyland.
As a competitor in the 7/9-year-old age division, Palomarez is not allowed to wear make-up, and there is no swimsuit competition. The pageant program is based on inner-beauty, as well as poise and presentation.
The Sunnyside girl enjoys singing and dancing, and has appeared in several community parades, representing the Panda Bear daycare center.