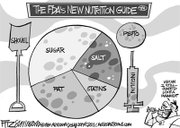 I'm going to do something this summer I never thought I'd do. I'm stepping out of my box.
To do this I will scale the peak of Mt. Adams sometime in August. Some might believe this to be a little anti-climatic. That's fair. I realize Mt. Adams is a mountain that has been climbed by many. I also realize the ascent is considered easy. But you have to start somewhere, right?
I've wanted to climb the mountain for a while now. Living in Sunnyside we are afforded wonderful views of Mt. Adams and I've thought about making the attempt for a while. Last summer my publisher climbed it. Recently I found out a friend of mine has climbed it several times. He's even scaled Mt. Rainier.
My friend is in great shape, but he has quite a few years on me. That's when I realized I need to step out of my box and get active.
I recently turned 42. God, that sounds even more horrible when I see it in print. I used to be in shape and active, but working at the DSN has not been good to me. I sit at a desk most of the day and until recently I would eat a lot. Doughnuts are not an uncommon sight around here. The Daily Sun News is also legendary for its potlucks. I remember my first couple of months here. It could have been because there were holidays and some people left, a reason to throw a party, but I recall a bunch of potlucks.
Almost six years later, all that good food has caught up to me. I ballooned up to my highest weight ever, 207 lbs. I look at pictures of me when I was that weight and shudder. Yuck!
But leading up to number 42 I decided to do something about it. I stepped out of my box.
I joined the gym and started eating better. In 2009 my cholesterol count was in the mid-200s. That's pretty high. My most recent physical showed my cholesterol count has dropped to 145. I'm pretty happy about that. It seems stepping out of my box has some benefits.
The beauty of it is I never go hungry. Instead of Big Macs, pizza and other fast, processed foods, I now eat natural foods. Vegetables and fruits are a great way to fill up. For the price of a Big Mac meal I get enough strawberries to last me four days. For the price of two man-cans of Budweiser I can get a carton of blueberries. Apples, oranges and bananas are cheap, too.
I still eat meat. I love a good steak, pork fillet or chicken breast. But I eat only half and share the rest with my daughter. I then load up on fruits and vegetables.
Slowly, with the help of exercise five times a week, I'm getting back to my old self. Let's say I'm stepping out of my 40-year-old box and re-entering my 20-something box.
And let me say, it feels great. I know Mt. Adams is supposed to be an easy climb, but it's still a 12,000 foot mountain. However, I'm not worried. There is no doubt in my mind I will scale it on my first attempt. And after that I will conquer Mt. Rainier in 2012. After that, I'm not sure, but I know I'm excited for the future.
That's because I'm 42 and I have a bunch of living left to do.