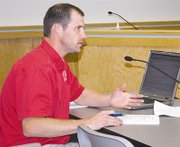 The Sunnyside Planning Commission last night approved changes to the freeway commercial zoning codes and voted to forward the changes to city council.
A public hearing regarding the changes, which adds RV parks to the provisions for motels and hotels, was held during the planning commission's meeting.
No citizens attended the meeting and Sunnyside Community Development Manager Jamey Ayling said there weren't any letters or correspondence regarding the issue received from citizens.
He said the changes came about during a review of the B-1 freeway commercial zone and it was believed RV parks could be linked with hotels and motels.
The zoning code for freeway commercial properties is in chapter 17 of the Sunnyside Municipal Code (SMC).
The review also led to revisions in chapter 16.14 of the SMC.
RV parks are defined and changes to the code include the maximum length of travel trailers. It was 32-feet and was revised to state a travel trailer's maximum length can be 45-feet.
"Mobile homes are not permitted in RV parks," said Ayling.
He said another change in the revised ordinance allows fewer restrooms for the number of lots in an RV park. The code was changed to one shower/bathroom for every 40 lots because those traveling in RVs would rather use their own private facilities inside the RV, according to Ayling. He said RV parks, according to the code, will have full hook-ups to allow patrons use of water and sewer.
Each RV park, said Ayling, must have a minimum of two exits. Gates to all but one of those exits must be closed off with a fire gate for security.
The minimum size of an RV park, according to the code, must be two acres and the maximum size is to be 10 acres.
The commission voted by unanimous consent to forward both the revisions to the freeway commercial zone code and chapter 16.14 of the SMC to city council.