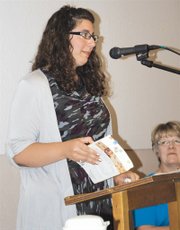 PROSSER - Lower Valley Christian Women's Connection speaker Anna Tracy knows all about the pitfalls of a negative sense of identity.
Tracy was the featured speaker yesterday (Tuesday) at the group's monthly meeting at the Barn Restaurant in Prosser.
For many years, she believed she was someone other than the person God wanted her to be.
Tracy grew up believing she was the child of someone other than the parents she knew. She believed a story told to her by her grandmother, a story of being abandoned on the doorstep of her family home as an infant.
Her grandmother called her Morning Star, stating she was the child of a Native American woman who was unable to keep her because the Indian Chief forbade the baby to remain in the tribe. Tracy's grandmother told her she was the product of a relationship between the Native American woman and a Caucasian man.
The bubble burst for Tracy when she was home sick one day and watched a television program with the exact same scenario.
"I began to believe the Indian woman on the television was my mother...my own mother and grandmother were laughing until they saw how serious I was," Tracy said.
Tracy, whose first name means grace, had difficulty accepting herself for many years. She said some people live up to their names, but she did not exemplify someone who was graceful like a ballerina.
"I crawled backward as an infant," she said.
Tracy's struggles with her identity continued throughout her teenage and young adult years.
She said she began taking on other names for herself. Those names included Broken, Bitterness and Selfish.
Tracy said she felt broken because she felt like shattered glass rather than the perfect human being that she was when first born.
Her mother and father divorced when she was 2-years-old. Her mother remarried. Her stepfather had addiction problems and it was revealed her biological father married her mother to conceal the fact that he was homosexual.
Tracy's biological father also did not play a major role in her life.
She identified herself as bitter because from the brokenness came anger.
"I was upset with the adults whom I believed were responsible for never providing the love and security I believed I deserved," said Tracy.
She said that led to the selfish part of her identity.
Tracy felt if she provided herself with a sense of accomplishment and security she was a good person. She worked hard to do good things so that she could be a good person.
"I carried all those identities on the inside, not believing others could see it," she said, donning heavy clothing to represent the identities she carried around all those years.
Tracy said the three identities were a barrier to the world and her view of herself was impaired.
Then, she met a person who didn't see the labels, but did see what Tracy needed in her life.
"Laura invited me over to her house...she offered to pray for me," said Tracy, stating she accepted the offer reluctantly.
She also accepted an invitation to church from the friend and that is what changed her sense of identity.
Tracy said it was if the pastor was speaking directly to her, sharing the story of the crucifixion.
"I listened intently," she said, stating she learned why Christ died, including His love for the whole world.
"The whole world meant me," said Tracy.
That led her to a renewed sense of self. She accepted Christ's love for her and began to see herself as Forgiven.
"It's much lighter and goes with many more outfits," Tracy quipped.
The journey began and she later realized she is also Princess and Beloved.
"God was the original romancer, having written the original love letter to His people," said Tracy.
In closing she told those attending the Christian Women's Connection meeting Grace was the final identity she realized because she found grace in the Bible and the relationship with Christ.
"You can do all the good deeds in the world, but that doesn't create a relationship," said Tracy.
Jennie McGhan/Daily Sun News
Anna Tracy speaks about her identity crisis at this month's Lower Valley Christian Women's Connection meeting.
1 Jennie McGhan 7/13/2011 4:10 PM