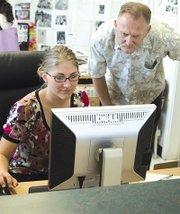 She's taken pictures of cows, interviewed a local business leader and written stories about international travel.
It's all part of Claire Schilperoort's experience as a volunteer summer intern at the Daily Sun News.
The 2008 SHS grad is home this summer from studies at WSU, where she will be a senior this fall.
A creative writing major/Spanish minor, Schilperoort asked her grandmother what she thought about the idea of seeking experience at the Daily Sun News.
"We have a small community and I wondered if I went to the Daily Sun would they at least let me be a fly on the wall," Schilperoort recalled. "My grandma said she knew Bob (Story, the Daily Sun News editor) and said he was a nice guy."
With that Schilperoort approached Story about a month ago regarding the prospects of interning this summer.
Since then her Thursdays at the DSN have been filled with sitting in on interviews, snapping photos and conducting her own interviews.
"I really love taking photos," Schilperoort says. "And I like writing the travel stories." The travelogues are from her semester in Spain this past fall.
In general, though, Schilperoort says the experience here is making her a better writer.
"It's challenging, it uses a different part of the brain," she says of news writing versus creative fiction writing. "It stretches my brain. There are fewer creative liberties, so it forces me to work five times harder to write a news story creatively."
While the stretch from fiction to news writing is challenging, Schilperoort says she appreciates the opportunity at the Daily Sun News.
"It's great to see my stuff in print," she says, noting writing for the paper is her first experience at writing for a wide audience.
Schilperoort says one of best experiences at the paper is getting acquainted with the Daily Sun News staff. "I enjoy getting to know everybody here and hearing about the opportunities out there."
She's only got about a month left in her internship here before she heads back to WSU with plans to graduate next spring.
Wherever her post-university career takes her, Schilperoort says interning at the Daily Sun News has been an invaluable experience.
"By the end of my experience here I'll know my strengths and weaknesses better," she says of her writing. "I'm more capable of a broader writing style than I thought and I'll have a better grasp on what aspects of writing I like and don't like."
For prospective summer interns eyeing a shot at real world experience, Schilperoort offers this advice:
"Be able to have a conversation with someone, break the silence and don't be afraid to ask stupid questions," she offers. "Don't be afraid to make yourself vulnerable. Unless you put yourself out there and try you won't get anywhere."