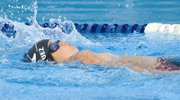 GRANDVIEW - Firmly entrenched as the favorite to win this year's Mid-Valley Summer Swim League championship title, based on their dominating first-place finish at last weekend's nine-team AAU Regional meet in Toppenish, the Sunnyside Sharks made short work of the Grandview Neptunes last night.
Winners of 57 of the 71 events staged Tuesday evening, the Sharks swam off with a convincing 591-212 victory over the host Neptunes. It's Sunnyside's second such lopsided victory over Grandview this season.
For Grandview, it was the club's sixth league loss of the summer in eight dual meets held thus far.
Sunnyside improved to 6-1 in league play last night. Its one loss was a narrow 428-402 defeat at the hands of the Dolphins in the Selah pool the end of June. The Sharks will get the chance to avenge their only loss when the Selah swim team invades the Sunnyside pool this coming Thursday.
Sunnyside's strength against the Neptunes last night came in the girls races, where the Sharks compiled a 338-74 scoring advantage.
The Sunnyside and Grandview boys were much more evenly matched, as the Sharks only outscored the Neptunes in those events by a 253-138 margin.
Of the 14 total victories Grandview laid claim to last night, 12 of them came in the boys races.
Tavian Valenzuela found the most success for the Neptunes. He was a member of both winning relay squads in his boys 12&U age division, and he secured wins in the 160-meter individual medley, as well as in the 40-meter breaststroke and freestyle races.
Fellow boys 12&U teammate Austin Stevens was in on three victories. Twice a relay squad victor, Stevens also nailed down the first-place finish in the 40-meter backstroke.
The other two members of the two victorious boys 12&U relay squads for Grandview were Jojo Valdez and Dylan Diener.
The Neptunes also got a pair of first-place finishes from boys 16&U swimmers Fabian Ruiz (40-meter butterfly and 40-meter freestyle) and Jared Churchill (40-meter backstroke and 160-meter IM).
Grandview's two other boys events winners were Daniel McGhan (boys 8&U 40-meter breaststroke) and Nathaniel Gutierrez (boys 10&U 40-meter butterfly).
160-YARD MEDLEY RELAY
Girls 10&U
1st-Sunnyside (K. Bunch, B. Hazzard, A. Maldonado, G. Gray) 2:18.51
Boys 10&U
1st-Sunnyside (C. Schilperoort, J. Heffron, P. Van de Graaf, I. Gonzalez) 2:29.00
Girls 12&U
1st-Sunnyside (J. Mendoza, S. Salas, A. Harrington, E. Banks) 2:05.29
Boys 12&U
1st-Grandview (J. Valdez, A. Stevens, T. Valenzuela, D. Diener) 2:20.62
Girls 14&U
1st-Sunnyside (K. Banks, K. Bestebreur, P. Sample, L. Schilperoort) 1:55.13
Boys 14&U
1st-Sunnyside (C. Martin, M. Marquez, A. Perez, F. Rodriguez) 1:57.46
Girls 18&U
1st-Sunnyside (B. Broersma, M. Broersma, A. Newhouse, M. Marquez) 1:45.14
40-METER BUTTERFLY
Girls 8&U
1st-Reese Gray (S) 43.31, 2nd-Arianna Sanchez (S) 52.45, 3rd-Sydney Banks (S) 1:25.14
Boys 8&U
1st-Logan Rodriguez (S) 51.16, 2nd-Daniel McGhan (G) 1:06.62, 3rd-Erick Vergara (S) 1:06.80, 4th-Cesar Vargas (S) 1:09.79
Girls 10&U
1st-Ashlee Maldonado (S) 28.83, 2nd-Jessica Scheenstra (S) 31.03, 3rd-Alexandra Partch (S) 35.61, 4th-Cassandra Ruiz (G) 36.12
Boys 10&U
1st-Nathaniel Gutierrez (G) 34.87, 2nd-Parker Van de Graaf (S) 35.21, 3rd-Johnny Heffron (S) 40.04, 4th-Clay Schilperoort (S) 43.10
Girls 12&U
1st-Aydan Harrington (S) 26.52, 2nd-Jolissa Mendoza (S) 28.18, 3rd-Areesa Trevino (G) 30.32
Boys 12&U
1st-Skylar Gray (S) 33.13, 2nd-Mak Shergill (S) 30.99, 3rd-Carlo Rodriguez (S) 35.11, 4th-Austin Stevens (G) 35.92
Girls 14&U
1st-Payton Sample (S) 24.42, 2nd-Lindsay Schiilperoort (S) 26.44, 3rd-Katelyn Banks (S) 26.82, 4th-Courtnie Cunningham (S) 28.98
Boys 14&U
1st-Alex Perez (S) 25.53, 2nd-Fox Rodriguez (S) 27.60, 3rd-Christopher Martin (S) 29.22, 4th-Brendon Lynch-McGhan (G) 30.52
Girls 16&U
1st-Brittany Broersma (S) 23.53, 2nd-Alexandra Newhouse (S) 25.12, 3rd-Samanta Castaneda (G) 26.31, 4th-Tawnya Francis (G) 26.79
Boys 16&U
1st-Fabian Ruiz (G) 22.40, 2nd-Giovanni Rodriguez (S) 22.98, 3rd-Jared Churchill (G) 23.21, 4th-Damien Garza (G) 29.56
Girls 18&U
1st-Marisa Broersma (S) 22.90, 2nd-Sarah Roberts (G) 36.84, 3rd-Jenalee Mariotti (G) 37.95
Boys 18&U
1st-Cristian Vargas (S) 21.93, 2nd-Omar Vergara (S) 22.83
40-METER BREASTSTROKE
Girls 8&U
1st-Reese Gray (S) 45.91, 2nd-Abigail Albrecht (S) 51.04, 3rd-Arianna Sanchez (S) 51.08, 4th-Aline Anderson (S) 52.96
Boys 8&U
1st-Daniel McGhan (G) 1:01.79, 2nd-Logan Rodriguez (S) 1:02.13, 3rd-Erick Vergara (S) 1:21.06, 4th-Logan Hudgens (G) 1:32.94
Girls 10&U
1st-Cassandra Ruiz (G) 36.52, 2nd-Ashlee Maldonado (S) 37.00, 3rd-Alexandra Partch (S) 39.28, 4th-Bailey Hazzard (S) 39.90
Boys 10&U
1st-Johnny Heffron (S) 35.20, 2nd-Nicolas Cortez (G) 35.65, 3rd-Parker Van dr Graaf (S) 41.89, 4th-Clay Schilperoort (S) 45.64
Girls 12&U
1st-Aydan Harrington (S) 34.11, 2nd-Areesa Trevino (G) 34.30, 3rd-Sadie Salas (S) 34.64, 4th-Emily Banks (S) 35.09
Boys 12&U
1st-Tavian Valenzuela (G) 31.89, 2nd-Mak Shergill (S) 37.07, 3rd-Jojo Valdez (G) 38.34, 4th-Jace Ziegler (S) 38.68
Girls 14&U
1st-Heidi Vergara (S) 30.97, 2nd-Payton Sample (S) 33.16, 3rd-Kalie Bestebreur (S) 33.26, 4th-Katelyn Banks (S) 33.62
Boys 14&U
1st-Alex Perez (S) 28.50, 2nd-Fox Rodriguez (S) 31.70, 3rd-Brendon Lynch-McGhan (G) 31.86, 4th-Christopher Martin (S) 35.28
Girls 16&U
1st-Brittany Broersma (S) 27.29, 2nd-Alexandra Newhouse (S) 31.85, 3rd-Tawnya Francis (G) 32.46, 4th-Samanta Castaneda (G) 32.56
Boys 16&U
1st-Giovanni Rodriguez (S) 27.46, 2nd-Jared Churchill (G) 28.42, 3rd-Fabian Ruiz (G) 28.44, 4th-Damien Garza (G) 31.79
Girls 18&U
1st-Marisa Broersma (S) 27.31, 2nd-Sarah Roberts (G) 32.34, 3rd-Jenalee Mariotti (G) 40.60
Boys 18&U
1st-Cristian Vargas (S) 25.63, 2nd-Edgar Vargas (S) 39.55, 3rd-Omar Vergara (S) 45.94
40-METER BACKSTROKE
Girls 8&U
1st-Reese Gray (S) 43.17, 2nd-Abigail Albrecht (S) 54.24, 3rd-Elissa Hill (S) 54.49, 4th-Aline Anderson (S) 55.12
Boys 8&U
1st-Logan Rodriguez (S) 46.87, 2nd-Cesar Vargas (S) 55.85, 3rd-Logan Hudgens (G) 59.71, 4th-Benjamin Anderson (S) 1:06.46
Girls 10&U
1st-Ashlee Maldonado (S) 33.87, 2nd-Jessica Scheenstra (S) 35.60, 3rd-Kylah Bunch (S) 35.84, 4th-Alexandra Partch (S) 37.25
Boys 10&U
1st-Clay Schilperoort (S) 36.09, 2nd-Parker Van de Graaf (S) 37.06, 3rd-Nathaniel Gutierrez (G) 41.81, 4th-Nicolas Cortez (G) 45.66
Girls 12&U
1st-Aydan Harrington (S) 29.27, 2nd-Emily Banks (S) 32.66, 3rd-Jolissa Mendoza (S) 34.26, 4th-Talor Ebbelaar (G) 34.78
Boys 12&U
1st-Austin Stevens (G) 33.85, 2nd-Skylar Gray (S) 35.42, 3rd-Carlo Rodriguez (S) 37.34, 4th-Tavian Valenzuela (G) 38.45
Girls 14&U
1st-Lindsay Schilperoort (S) 27.57, 2nd-Payton Sample (S) 29.92, 3rd-Katelyn Banks (S) 31.12, 4th-Ashley Davis (S) 32.25
Boys 14&U
1st-(tie) Christopher Martin (S) & Alex Perez (S) 28.35, 3rd-Brendon Lynch-McGhan (G) 32.64, 4th-Fox Rodriguez (S) 34.52
Girls 16&U
1st-Brittany Broersma (S) 25.53, 2nd-Madi Marquez (S) 29.40, 3rd-Samanta Castaneda (G) 30.54, 4th-Charley Beth Rollinger (S) 31.02
Boys 16&U
1st-Jared Churchill (G) 26.36, 2nd-Fabian Ruiz (G) 27.44, 3rd-Giovanni Rodriguez (S) 29.47, 4th-Drew Scheenstra (S) 32.24
Girls 18&U
1st-Marisa Broersma (S) 25.18, 2nd-Jenalee Mariotti (G) 36.02, 3rd-Kendra Hollmeyer (S) 37.83
Boys 18&U
1st-Cristian Vargas (S) 24.99, 2nd-Omar Vergara (S) 39.13, 3rd-Edgar Vargas (S) 40.02
40-METER FREESTYLE
Girls 8&U
1st-Reese Gray (S) 35.53, 2nd-Arianna Sanchez (S) 37.19, 3rd-Abigail Albrecht (S) 40.78, 4th-Sydney Banks (S) 51.22
Boys 8&U
1st-Logan Rodriguez (S) 37.28, 2nd-Daniel McGhan (G) 53.29, 3rd-Erick Vergara (S) 56.44, 4th-Benjamin Anderson (S) 1:00.16
Girls 10&U
1st-Ashlee Maldonado (S) 26.09, 2nd-Jessica Scheenstra (S) 29.52, 3rd-Kylah Bunch (S) 29.88, 4th-Alexandra Partch (S) 30.14
Boys 10&U
1st-Parker Van de Graaf (S) 30.61, 2nd-Clay Schilperoort (S) 30.66, 3rd-Nathaniel Gutierrez (G) 31.46, 4th-Johnny Heffron (S) 33.69
Girls 12&U
1st-Jolissa Mendoza (S) 26.13, 2nd-Areesa Trevino (G) 26.32, 3rd-Emily Banks (S) 26.50, 4th-Taylor Ebbelaar (G) 27.10
Boys 12&U
1st-Tavian Valenzuela (G) 25.07, 2nd-Austin Stevens (G) 25.22, 3rd-Luis Valdez (G) 27.60, 4th-Skylar Gray (S) 28.97
Girls 14&U
1st-Payton Sample (S) 22.53, 2nd-Katelyn Banks (S) 24.70, 3rd-Lindsay Schilperoort (S) 25.31, 4th-Jordan Rodriguez (S) 25.78
Boys 14&U
1st-Alex Perez (S) 21.56, 2nd-Brendon Lynch-McGhan (G) 23.37, 3rd-Christopher Martin (S) 23.62, 4th-David Wacenske (G) 25.14
Girls 16&U
1st-Britany Broersma (S) 21.03, 2nd-Madi Marquez (S) 23.32, 3rd-Alexandra Newhouse (S) 24.04, 4th-Samanta Castaneda (G) 24.05
Boys 16&U
1st-Fabian Ruiz (G) 19.30, 2nd-Jared Churchill (G) 19.87, 3rd-Giovanni Rodriguez (S) 21.73, 4th-Damien Garza (G) 24.41
Girls 18&U
1st-Marisa Broersma (S) 21.08, 2nd-Kara Phillips (G) 22.70, 3rd-Jenalee Mariotti (G) 29.06, 4th-Sarah Roberts (G) 29.22
Boys 18&U
1st-Edgar Vargas (S) 36.94, 2nd-Omar Vergara (S) 37.01
160-METER FREESTYLE RELAY
Girls 10&U
1st-Sunnyside (G. Gray, J. Scheenstra, K. Bunch, A. Maldonado) 1:59.14
Boys 10&U
1st-Sunnyside (C. Schilperoort, I. Gonzalez, E. Weaver, P. Van de Graaf) 2:30.51
Girls 12&U
1st-Grandview (T. Ebbelaar, L. Binfet, V. Perez, M. Diener) 2:00.24
Boys 12&U
1st-Grandview (A. Stevens, D. Diener, J. Valdez, T. Valenzuela) 1:54.86
Girls 14&U
1st-Sunnyside (names unavailable) 1:41.92
Boys 14&U
1st-Sunnyside (C. Martin, M. Marquez, A. Perez, F. Rodriguez) 1:40.78
Girls 18&U
1st-Sunnyside (B. Broersma, M. Marquez, A. Newhouse, M. Broersma) 1:33.50
160-METER INDIVIDUAL MEDLEY
Girls 10&U
1st-Jessica Scheenstra (S) 2:52.73, 2nd-Kameran Rodriguez (S) 3:23.20, 3rd-Cassandra Ruiz (G) 3:38.84, 4th-Lala Campos (S) 3:39.62
Boys 10&U
1st-Parker Van de Graaf (S) 3:01.39, 2nd-Clay Schilperoort (S) 3:05.40, 3rd-Nathaniel Gutierrez (G) 3:08.83, 4th-Johnny Heffron (S) 3:29.32
Girls 12&U
1st-Jolissa Mendoza (S) 2:26.83, 2nd-Taylor Ebbelaar (G) 2:35.21, 3rd-Emily Banks (S) 2:36.78, 4th-Areesa Trevino (G) 2:49.41
Boys 12&U
1st-Tavian Valenzuela (G) 2:42.54, 2nd-Carlo Rodriguez (S) 2:44.88, 3rd-Jojo Valdez (G) 2:49.16, 4th-Mak Shergill (S) 2:54.66
Girls 14&U
1st-Lindsay Schilperoort (S) 2:14.85, 2nd-Katelyn Banks (S) 2:22.28, 3rd-Jordan Rodriguez (S) 2:35.69, 4th-Ashley Davis (S) 2:35.76
Boys 14&U
1st-Alex Perez (S) 2:09.66, 2nd-Fox Rodriguez (S) 2:29.85, 3rd-Christopher Martin (S) 2:32.93, 4th-Brendon Lynch-McGhan (G) 2:35.82
Girls 16&U
1st-Madi Marquez (S) 2:18.49, 2nd-Samanta Castaneda (G) 2:19.14, 3rd-Alexandra Newhouse (S) 2:19.58, 4th-Tawnya Francis (G) 2:28.79
Boys 16&U
1st-Jared Churchill (G) 2:04.96, 2nd-Fabian Ruiz (G) 2:08.48, 3rd-giovanni Rodriguez (S) 2:11.73, 4th-Drew Scheenstra (S) 2:43.90
Girls 18&U
1st-Marisa Broersma (S) 1:59.25, 2nd-Jenalee Mariotti (G) 2:55.42, 3rd-Sarah Roberts (G) 3:03.36