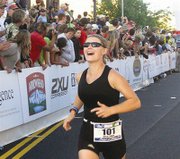 Kristi Vlieger of Sunnyside did more than complete the first ironman competition she entered.
She finished in the top half of her field during the Coeur d'Alene, Idaho ironman held last month.
Vlieger finished the swim-bike-run event in a time of 12 hours and 58 minutes to finish in 27th place out of 74 competitors in the 25-29 women's age bracket.
That time was good enough to actually place Vlieger in the top third of all female competitors and in the top half of the overall field of 2,300 athletes competing at Coeur d'Alene.
"It was just super difficult and a real challenge," she says. "It's something I've been looking forward to, a life goal."
Vlieger had prepared for ironman competition by participating in a number of triathlon events over the past three years.
Ironman is an entirely different challenge, though, as the Couer d'Alene course requires participants to swim 2.4 miles in 58-degree water, bicycle 112 miles and then top it off with a 26.2-mile run.
She credits her father, Don, with helping her through the endurance events, along with friends from Sunnyside who made the trip to Idaho to cheer her on.
Vlieger also praised the Coeur d'Alene and Hayden, Idaho residents for rallying around ironman competitors.
She recalled how the community would be all along the course cheering for participants. Vlieger said one child confined to a wheelchair was alongside the course yelling "good job!" at participants. "Who was really doing the good job there?" Vlieger said in praise of the child's positive spirit.
She also smiled as she recalled an elderly lady in a housecoat who sat on her front porch and sprayed cool water to refresh participants who looked her way.
Vlieger said the most challenging part of the course was the swim, as ironman rules dictate that competitors can wear wetsuits but not gloves. She said the cold and exertion made it so she couldn't temporarily move her fingers when she got out of the water.
She said she lost some minutes during the transition from swimming to biking. Vlieger said she could also do a better job of positioning herself during the start of the swimming, noting she got caught up behind a large pack of swimmers and lost several minutes.
Every minute counts in the sport, especially because Vlieger is considering taking a shot at the international ironman competition in Kona, Hawaii.
Though she at first thought the Idaho ironman competition would be just a one-time participation in the sport, Vlieger seems to have caught the ironman bug.
She says qualifying for internationals would require her to trim two-and-a-half hours off the time she posted in Idaho.
Vlieger says she's a few years away from eyeing Kona because ironman athletes generally don't hit their peak until their early 30s.
A cross country and track athlete while in high school, the 2003 SHS grad may be facing what seems like a tall task to cut her time down by more than two hours.
But then again you never know until you try.
"Your body can do a lot more than you think it can," she says. "The thing is to believe it can."