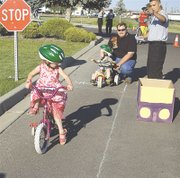 Four-year-old Tabby Raines started pedaling her tricycle down a marked off area. When she heard a whistle, which was supposed to simulate a car horn, she deftly turned her head to check for the unseen vehicle, earning points from the judges.
Raines was participating in last night's bicycle rodeo, which was hosted by the Sunnyside Police Department. The event is not new, but is has been more than six years since it's been seen in Sunnyside. Something Sunnyside Police Officer Sgt. Joey Glossen said will not happen again.
"We hope to do it once a year from now on," Glossen said of the bicycle rodeo.
Approximately 30 youths turned out for the rodeo, which featured five events.
The events included the slow race, where bicycle riders attempted to go as slow as possible while still remaining balanced; the driveway ride-out, where riders left a simulated driveway, stopped and looked in both directions, rode to a stop sign and then used hand signals; the rock dodge, where riders rode their bicycles down a lane and had to dodge simulated rocks, which were really sponges.
"The object is to avoid obstacles that may be in your path without swerving into traffic," Glossen explained.
There was also the tight-turn event, where a rider rode a short distance and then did a tight turn. Glossen said this helped teach riders how to maneuver safely while still maintaining their balance on the bicycle.
The last event was scanning, where the rider rode along the side of the road. A Sunnyside Police Explorer would blow a whistle, which simulated a car horn. The bicycle rider then did a shoulder check to look for the vehicle. Glossen said the object was to teach the youngsters not to swerve into traffic and maintain their balance, as well.
Many youngsters brought their own bicycle helmets, but thanks to a traffic safety grant, the police department was able to give away free helmets to those who didn't have one. The police explorers also gave free bicycle safety checks.
That wasn't all, once a rider completed their cycle of events, their name was entered into a drawing. Prizes included bicycle locks, bubble makers and more.
There were four divisions of riders. Those who rode tricycles, 5 to 6-year-olds, 7, 8 and 9-year-olds and 10 to 11-year-olds.
After competing in the events riders relaxed with water and frozen treats provided by the police department.