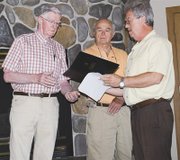 Hank Timmermans and Leroy Ganser were both recognized for more than 40 years in the realty business yesterday (Wednesday) at a Lower Valley Realtors luncheon.
The pair of Sunnyside realtors received the designation of Realtor Emeritus, the first Lower Valley realtors to achieve the honor, according to Ellen Iverson.
"We are so happy...this is a big deal," she said.
Timmermans and Ganser weren't expecting the awards at yesterday's luncheon.
Timmermans said he wasn't planning to attend, but was coerced to do so.
"I saw they were having a free lunch, but I decided I wasn't going," he said at the luncheon.
He has been a member of the local realtors associateon since January 1965 and continues to serve the community. The year he began selling real estate it was on a six-month temporary salesman's permit.
Realtors at the time, said Timmermans, were only able to obtain the permit once. During the six months the individual had to take the state real estate licensing examination.
If the individual failed, they could retake the exam at two-month intervals until they passed, but could not sell real estate until passing the test.
Timmermans passed the exam in May 1965, and in 1967, passed the real estate brokers examination.
That led to the purchase of his own real estate business in 1969. He purchased the business from Bert C. Ooms, located at 1117 East Edison Avenue in Sunnyside. The business was relocated to its current location, 1508 East Edison Avenue, in 1973.
Timmermans has been the president of the Lower Valley Realtors Association twice, and he has been a member of the Sunnyside Chamber of Commerce. He is a member of the Sunnyside American Legion Post, and he's been a member, as well as past president of the Sunnyside Noon Rotary Club.
His first real estate sale in 1965 was a two-acre country lot that sold for $3,000.
Ganser has been selling real estate since 1970.
He earned graduate real estate institute designation in 1971, 1972 and 1973.
Ganser worked for Dayton Realty for 8-1/2 years and obtained a broker's license in 1976. He opened Ganser Realty in 1978.
He remembers his first real estate transaction with Mr. VanderVeit. VanderVeit purchased a home on Swan Road and the transaction was completed in two weeks time. The home sold for $30,500, which was "a big sale for the time," Ganser said.
Ganser has also served as president of the Lower Valley Realtors Association, in 1983.
The Realtor Emeritus designation is granted by the National Association of Realtors.
In addition to a folder containing a congratulatory letter from the association, Timmermans and Ganser were awarded a special realtor lapel pin containing four rubies signifying 40 years of service.