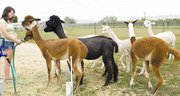 Alpacas are a curious breed of animal from which luxurious clothing can be created from the shearing of their outer fibers.
Sunnyside's Bob and Danise Cathel, seeking a breed of animal that would suit their farm at 2361 Scoon Road, recently opened Silbury Hill Alpacas.
Mrs. Cathel said the family researched different livestock for their farm over the course of several years. It was just last year the couple traveled to an event at Bill's Berry Farm just outside Grandview and found the animal they wanted to breed.
"We saw alpacas," she said, stating there are many benefits to breeding the animal.
Alpacas, said Mrs. Cathel, are not hard on the land and their soft coats can be used for making clothing. The animals are considered a "green" animal because their droppings can be utilized as manure and alpacas don't consume as much feed as other livestock.
Alpacas are cousins to llamas. Llamas are used as pack animals and their coats are denser and more coarse than alpaca fibers.
Alpacas are also about half the size of a llama.
"We liked the fact that the animals are clean and easy to maintain," said Mrs. Cathel.
She and Mr. Cathel are pleased with the ability to also use the fibers in what is becoming popularly known as heirloom arts.
The couple's daughter-in-law, Sarah Podvin, has created a number of scarves and caps using the fibers.
The Cathels spin the fibers into yarn that is later knitted into soft, supple clothing items.
Silbury Hill Alpacas also has a store where the textiles are sold with reading materials and other items.
Visitors can tour the farm and watch a spinning demonstration, as well as learn about the loving creatures raised there.
"We share how to care for the animals and babies," said Mrs. Cathel.
This summer two cria, alpaca babies, have been born. However, a total of eight are ready to enter the world.
The Cathels have enlisted the help of the entire family, which includes two college-aged children, a daughter-in-law and two nieces.
There are 27 alpacas currently at the farm.
The name of the farm was inspired by a horse the Cathels watched at an equestrian event in England when they lived there in 2008.
In addition to the alpacas, peaches are grown at the farm. The peaches are available by u-pick in the month of August.
Tours at Silbury Hill Alpacas are available by appointment by calling 837-8012 or 840-0306.
Three events are planned for August and September. The public can attend the peach harvest and open house Aug. 27-18 or Sept. 3-4. National Alpaca Farm Days are scheduled for Sept. 24-25. All three events are from 10 a.m. to 5 p.m.
Silbury Hill Alpacas can also be found online at www.silburyhillalpacas.com.