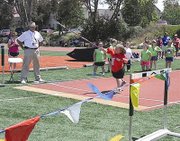 ANAHEIM - Sunnyside High School student Katie Hutchins claimed four gold medals and three bronze medals during the Dwarf Athletic Association of America National Games held recently in Anaheim, Calif.
It was the first try at Nationals for the 15-year-old Sunnyside Shark and SHS team swimmer, who competed in the 13-to-15 age group.
Hutchins, who is legally blind, said her experience and daily practice with the Sharks, the local summer swim team, helped prepare her for Nationals, where she won four gold medals in swimming.
Her training regimen was particularly noticeable in the 50-meter freestyle event.
"I was in swimming shape," she smiled. "I surprised myself. When I got to the end I was a pool length ahead of everyone else."
Besides gold in the 50-meter freestyle, Hutchins also brought home top honors in the 25-meter freestyle, 25-meter butterfly and the freestyle relay.
Hutchins' bronze medal honors came in track and field events. A participant on the SHS track team, Hutchins claimed bronze in the shot put, discus and javelin.
During the same time as the National games, Hutchins said a Little People of America conference was also taking place in Anaheim.
"I've never seen that many little people in my life," she said with a big smile. "To not be the shortest one in a room was kind of weird."
Her mother, Trish Hutchins, enjoyed the experiences, as well.
"She works hard. I was glad to see her compete on an even field and to see how she competed against other children her age," Hutchins said.
Katie Hutchins enjoyed the event so much she plans to participate in the National games again next summer when it will be held in Dallas, Texas. The SHS sophomore-to-be also plans to compete at the World games in 2013 in Detroit, Mich.