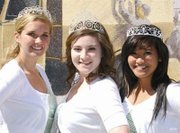 GRANDVIEW - The Grandview Chamber of Commerce and Yakima Valley Vintners will host a tri-chamber social on Thursday, July 21, from 5:30 to 7 p.m.
The tri-chamber social is a joint networking event that occurs three times a year, rotating among the three local chambers. These include Grandview, Prosser and Sunnyside.
All local business owners are invited to attend, however guests do not have to be a member of one of the local chambers.
The event will be held at the teaching winery at the YVCC Grandview campus, located at 110 Grandridge Road.
Yakima Valley Vintners will provide wine for tasting, restaurants that are members of the local chambers will be providing tasty dishes, door prizes will be given out and live music by Private Reserve will entertain guests.
"It's open for all businesses," said Grandview Chamber of Commerce Treasurer Melodie Smith. "It's a great opportunity for networking and learning about Grandview."
Walking tours of the newly renovated downtown Grandview area will be provided by the Miss Grandview Court. The tours will be given in 15-minute intervals.