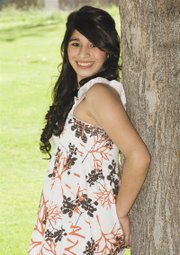 Working with those who have special needs is a passion for Miss Sunnyside candidate Maria Montoya.
The soon-to-be junior at Sunnyside High School has worked with the local Special Olympics program, helping the athletes reach for their goals. She also works at Hillcrest Manor and Rehabilitation Center. There, she serves meals.
Montoya's experience with the Special Olympics was driven by her desire to help her younger sibling, who has down syndrome.
She wants to continue working with the Special Olympics program, if selected to serve as 2011-12 Miss Sunnyside. She believes the entire Miss Sunnyside court can contribute to the work done, helping those with special needs.
"My older sister, Estrella, and I have volunteered for the program for the past two years...working with the athletes is fun and rewarding," said Montoya.
Her desire to help those who are overlooked and underappreciated goes further.
Montoya wants to attend Gonzaga University or the University of Washington to pursue a law enforcement career, helping special victims. She may even pursue a career as a pediatric nurse because her brother's (the one with down syndrome) pediatrician is an inspiration to her.
"I just want to help those who are vulnerable," said Montoya.
She is pursuing the Miss Sunnyside crown because she believes the local court has the ability to promote awareness and motivate others to become better citizens. She said she hasn't been involved in many school activities with the exception of choir, yearbook staff and science club, but the Miss Sunnyside program is an avenue to being proactive in the community.
"It's new and different for me," said Montoya, stating she would have greater exposure to the community members, new experiences and she can inspire youngsters like her younger siblings.
She is the daughter of Victoria Montoya, who mothers nine children.
"My mother is a great motivator, demonstrating the value of a work ethic," said Montoya.
"She's had to be both mother and father to nine kids, which I know has to be a hard job," she said.
For the Miss Sunnyside Pageant, Montoya will perform a dance routine to the song "Roxie" from the musical Chicago.
"I have always wanted to try it....the routine is mesmerizing. I have watched the movie many times and consider the routine a favorite," she said.
Montoya's sponsors for the pageant are Hillcrest Manor and Rehabilitation Center, Les Schwab Tires, Electric Beach and Johnson Fruit.