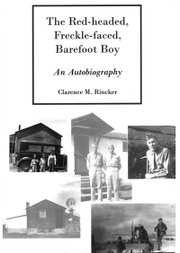 Growing up on a depression-era farm in Wyoming, Clarence M. Rincker of Prosser provides a detailed journal of his life in the autobiographical The Red-Headed, Freckle-Faced, Barefoot Boy.
How detailed?
So much so that he reports down to the penny how much he spent on room and board and college fees while studying at the University of Wyoming.
He also spends about a quarter of the book on his experiences as an infantryman during World War II.
It includes the riveting account of how he was one of just 17 survivors from a company of 200 men during the battle for Heilbronn, Germany. The company was holed up in a building surrounded by Germans, who were shelling the Americans.
The recipient of three Bronze Stars while serving with the 100th Infantry Division, Rincker tells first-hand not only the trials of serving in war, but the aftermath once he returned home to Wyoming.
He tells of traumatic nightmare years after the battle, still feeling the terror of being surrounded by the enemy. Rincker notes it was his mother who also brought it to his attention that he continually kept a watch out the windows of the family home...a subconscious survival trait picked up in war.
More than half of the 435-page book, though, details Rincker's life and work in Prosser with the USDA.
He started work in 1957 at the experiment station in Prosser, doing research on seed production of forage crops, as well as working on a seed project that covered Washington, Oregon and California.
For Prosser historians the book would be of additional interest, as Rincker talks about locations in the city.
"It was mid-afternoon on April 17, 1957 as we stopped to behold this magnificent view from the top of Horse Heaven Hills," Rincker said of his impression upon first seeing Prosser and the Lower Valley. "We had arrived! All we had to do was to coast down the hill into Prosser and find ourselves a place to live."
Rincker worked in ag research in Prosser for nearly 30 years, retiring in 1986.
Interspersed with first-hand accounts of his work in Prosser are travelogues and family matters, such as four pages on his father-in-law's prostate surgery.
The book ends on a personal note, as Rincker's final chapter, "Wrap-Up" closes with him sharing notes on his life at the Prosser Nursing Home, where he shares his meals with one of the founders of the multi-million dollar Vintners Village in Prosser.
Rincker's family, friends and co-workers over the past half-century in Prosser will no doubt find this a must-read book.
It would also be of interest to those looking for history on some of the research at the experiment station in Prosser.
For that matter, the first-person candor would be of interest to those who want to gain an appreciation of how a barefoot boy in the depths of the Great Depression grew to make such a notable contribution to his country.
The Red-Headed, Freckle-Faced, Barefoot Boy was published in 2010 by Vantage Press.