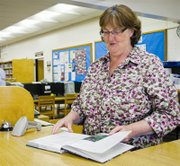 GRANDVIEW - She grew up in Grandview and graduated from Grandview High School in 1974.
Grandview's new library director, Elizabeth (Robison) Jahnke, said taking the position is a coming home for her.
She said she helped out in the library as a teen and knew at a young age, reading books on the shelves of her community library, she wanted to be a librarian.
After graduating high school, Jahnke attended Yakima Valley Community College and later received her Bachelor's degree in English literature from Spokane Falls -Whitworth. She spent another year at the University of Hawaii in Manoa earning a Master's of Library Information Studies.
Jahnke returned to her home state and worked not far from home. She said her first professional experience was at Columbia Basin Community College. Because her position there was part-time, she also worked for the Richland Public Library and worked in the newsroom library at the Tri-City Herald.
"Then I was signed on at the Washington State Penitentiary in Walla Walla," she said, stating she began working for the Washington State Library serving as librarian in the corrections system.
"It was interesting...the inmates were typically respectful toward me," said Jahnke.
She said the Walla Walla State Prison had two libraries she managed until budget cuts in 2003 jeopardized her position.
Jahnke was transferred to Shelton at that time and began supervising four other libraries in the correction system. It was three years later her duties expanded to include a fifth department of corrections library, as well as the library at Western State Hospital.
She spent another four years working in that position when budget cuts in 2010 again struck the state library and her job was eliminated.
Jahnke was spared in that she was able to move into cataloguing at the Washington State Library in Tumwater, where she supervised all who catalogue books there.
"That job wasn't quite the same as managing a library," she said.
"Running a branch, you do a little bit of everything," Jahnke said, stating she particularly missed the ability to visit with patrons.
As head librarian, she created policy, purchased books and had the opportunity to visit with those visiting the library. Being in the cataloguing department wasn't as fulfilling for Jahnke.
"The work was challenging, but something was missing," she said, adding it was also a very quiet job.
A friend of Jahnke's from Grandview emailed her, letting her know her hometown was searching for a librarian.
She admits she knew about the position when it was advertised in 2009, but she didn't apply at that time.
This time, however, Jahnke's supervisor encouraged her to apply.
"He said budget cuts might be a concern for the state library again," she said.
After considering the responsibilities and the fact that just more than a month after taking the post she would have to move the library to its new home on the Grandview campus of Yakima Valley Community College, Jahnke decided the opportunity was one she couldn't pass up.
"It's a unique opportunity...it's fitting because of my love of academic libraries," said Jahnke.
She said the joint library between the city and the college is something she is eager to be a part of because it offers her "the best of both the academic world and working with the general public."
Jahnke said she is eager to get the materials from the Bleyhl Community Library moved in so she can get to work at the joint library.
"I have a great staff...it'll all fall into place. I know it's not fairytale land, but I'm optimistic," she said, although she joined the city of Grandview just more than a week ago.
Jahnke said it is nice to be home. Grandview is the place where she developed her dreams of becoming a librarian.
She remembers crossing the railroad tracks at Division Street and West Fifth Street just after earning her library degree.
"I got goosebumps as I approached the library...it was my 'aha' moment," Jahnke said.
She said her life has brought her home in more than one way and she is genuinely pleased with that.