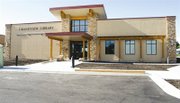 GRANDVIEW - The community of Grandview will celebrate the opening of its new library Saturday, Sept. 17, from 2 to 4 p.m.
Activities, refreshments and entertainment are planned for the event.
The party is a celebration of three years of hard work between the city of Grandview and Yakima Valley Community College.
"I'm pretty excited about the partnership, and improving the services that will be provided to the community," said Grandview City Administrator Cus Arteaga.
In 2008, the process of establishing a joint library between the community and the educational institution began.
YVCC first raised $2 million that year and secured a $2 million matching grant for the library. The U.S. Housing and Urban Development awarded another $600,000 for the project that year, and another $750,000 was approved by the Grandview City Council.
Construction of the library began at the end of last year, and an agreement between the city and college was inked this past February.
Manning the $4 million library will be city staff members. The maintenance for the building will be covered by the college.
The two entities will be responsible for book purchases meeting the patrons' needs. If more students are using the library, those books will be purchased by YVCC. If more residents are using the facility, the city will cover the cost of purchases made on their behalf.
The new library is located at 500 West Main Street and is projected to open Monday, Sept. 12, following a ribbon cutting ceremony.