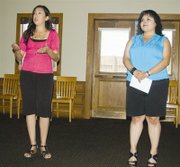 Children who have been abused or abandoned desperately need local families to open their homes to them.
The Sunnyside Chamber of Commerce heard from representatives of Service Alternatives, Inc. in Sunnyside at yesterday's chamber meeting and the message was simple, but urgent. More foster families are needed in the area.
Erma Medina, who is a foster care licenser, and Jensie Rosenow, who is a case manager for Service Alternatives, Inc. in Sunnyside, said their main focus in the area is on foster homes.
Medina explained the steps for foster parents to get licensed, which include the application process, a background check and being fingerprinted. She also said a full and complete biography is needed on each foster parent.
Rosenow told the chamber members that the majority of kids in foster care do not have parents, or for that matter, any family at all.
"It's not a normal 9 to 5 job," she said.
As a case manager Rosenow serves as a life advocate for a child who may not otherwise have someone to go to. She has 16 cases, which she considers 'her children'.
"I'm always a part of the decisions that are made within their lives," she said. "Everything from medical appointments and counseling appointments, to school conflicts and family visitation."
The job is not for the faint of heart. Both Rosenow and Medina see first-hand some of the horrors these children go through. A question both are asked is why they work in a job that is so stressful and depressing, but both say there is nothing they would rather do.
Rosenow gave one example of a child who has been in the foster care system since he was 2-months-old. In all that time he has never had any contact with a single member of his biological family.
This young man will leave the foster care system in August, when he reaches the age of 18.
"He will be starting school at YVCC in the fall, he has already found a job and has been on the hunt for places to live," Rosenow said. "To me, this is a huge success and it defines the reasons of why I do this type of work."
In her job she has learned that children as young as 5-years-old all the way up to 17 1/2 years old can be survivors and will succeed and persevere through all the barriers that have been presented to them. As she put it, it's people like herself and Medina who make the road for them, they just need to drive it.
But in order to really help these children, foster parents are needed and those aren't always easy to find. There are many difficulties. Forty-six hours of training are needed and that doesn't include CPR and first-aid classes, or the orientation.
There are also background checks and the household must be cleared.
"It takes really special people to deal with these kids and open their homes up," said Medina.
To find out more about becoming a foster parent contact Service Alternatives, Inc. at 836-0214.