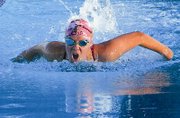 Pinning Selah with its first defeat of the summer, the Sunnyside Sharks avenged a 428-402 loss to the Dolphins sustained in late June. The Sharks, swimming in their own pool last night, got even by claiming a tightly contested 422-410 decision.
Both clubs now sit atop the Mid-Valley Summer Swim League standings with identical 7-1 marks.
Sunnyside came away with 39 first-place finishes Thursday evening, compared to the 35 victories notched by the visiting Dolphins.
Of the Sharks' 39 wins, 29 of them came in the girls events. The leaders in that department were the Broersma sisters, Brittany and Marisa, each of whom bested all comers in their respective 16&U and 18&U age divisions. Each of the sisters, too, swam on the winning girls 18&U medley and freestyle relay squads.
Sunnyside's girls also got a big boost from 12&U competitor Aydan Harrington. She won four of the five individual races in her age division. The one race she didn't capture top honors in was the 50-meter freestyle, where she placed second to Selah's Elyse Kuebler by 1.1 seconds. Harrington also was part of Sunnyside's winning 200-meter medley relay squad in her age divison.
Three Sunnyside swimmers teamed up to dominate the girls 14&U bracket, winning all five individual races and both relay competitions. Payton Sample and Heidi Vergara each scored two victories in the individual events. Sample's came in the 50-butterfly and 200-meter individual medley, and Vergara notched her wins in the 50-meter breaststroke and freestyle. Lindsay Schilperoort picked up the one other girls 14&U individual race victory, that coming in the 50-backstroke.
Sunnyside's girls also got a pair of individual race victories from 10&U swimmer Ashlee Maldonado. As she has done all season, Maldonado finished far ahead of the competition in the 50-meter 'fly, winning by a whopping margin of 6.91 seconds over the next closest finisher. Maldonado, too, hit the finishing wall first in the 50-breaststroke, ironic because that is the one event in which she has struggled this season.
Selah was led in the girls races by 8&U swimmer Trista Hull, who captured top honors in all four of the events. The Dolphins also received a three-victory performance from Nicole Smith at 10&U.
Of the 37 boys races last night, eight of them were relay competitions. Sunnyside laid claim to three of those relay victories.
In the individual boys races, the Sharks could only manage eight wins compared to Selah's 21 first-place finishes.
The Dolphins got superb efforts from Nolan Frampton and Kyle Raschko, who topped the competition in all the boys 14&U and 18&U age division events, respectively.
Scott Smith was a four-time winner for Selah at boys 16&U, and teammate Jacob Frampton came away with three victories at boys 12&U, with Carson Vick nailing down the two other individual race victories in that age division. Notching one win apiece for Selah in the boys races were Ty Smith at 8&U (backstroke) and Garret Borchert at 16&U (butterfly).
Sunnyside's top performers in the boys races included four-time winner Parker Van de Graaf at 10&U, three-time winner Logan Rodriguez at 8&U and Clay Schilperoort, who picked up a backstroke victory at 10&U.
Sunnyside is scheduled to travel to Toppenish next Tuesday to take on the Tarpons, whom they defeated by a 556-390 score back in late June.