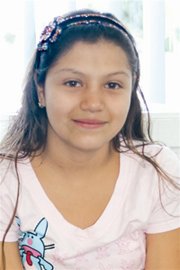 If the children are our future, in terms of correcting all the wrongs and misfortunes that have beset our world, then it is youngsters like 11-year-old Maribel Estrada who'll lead the new generation to finding the answers that elude us now.
The daughter of parents who migrated from California to Sunnyside about a year ago, Estrada has flourished since entering Sierra Vista Middle School. So much so, that the sixth grader has been selected to attend the prestigious Junior National Young Leaders Conference in Washington D.C. next month.
Despite emerging as one of the top students, if not the brightest, in Sierra Vista's ELL (English Language Learner) program this past year, Estrada's chances of trekking to our nation's capital hinge chiefly on coming up with the funds necessary to cover the many expenses.
Conference officials, impressed with the young girl's resume, have already waived $625 of the $1,800 fee that is assessed each youth who attend the nearly week-long training sessions. Estrada, with the help of her ELL teacher at Sierra Vista, Isabel Castro, have added another $750 to the pot through various fundraisers, namely by holding flower planter and pin sales at various locations around town. The two will be out in front of Sunnyside's Wal-Mart store from noon to 6 p.m. this coming Sunday, July 24, with more flower pots and pins they have pieced together.
Time is running out for the youngster, though, as not only is she still about $425 short of coming up with the conference fee, she must also raise enough money to pay for her airfare, as well as come up with the proper attire that all conference attendees are expected to wear.
Estrada and Castro are at the point "...we're in need of some corporate sponsors," said the ELL teacher. Because the girl's parents do not want the youngster flying to Washington D.C. on her own, she has agreed to accompany the child back east, and is hoping enough money can also be raised to foot part of her expenses.
If that's not possible, Castro believes so strongly in Estrada's potential that she is willing to make the trip on her own dime.
When Estrada entered the public school system in California she could speak nary a word of English. As a sixth grader last fall at Sierra Vista Middle School, she had limited use of the English language. Ready to begin seventh grade, Estrada is now so eloquent in conversing in English that it's difficult to believe she once struggled with the language.
The transition Estrada has undergone isn't confined to her speaking abilities. Castro said she's at the top of her class in academics, and it would be hard to find another student who works so diligently at her studies.
"Maribel is one of the hardest workers I've ever seen," said Castro. "She's very responsible...in fact she worked as an office assistant this past year.
"She has also been very willing to help other ELL students. Her leadership skills are exemplary.
"Quite honestly, Maribel is not the norm. What she has accomplished and how she goes about each day is not something that is commonly seen around here.
"She is an anomaly," Castro said.
The Washington D.C. conference Estrada hopes to attend is designed to develop the leadership potential of young people, and to expose the youngsters to the inner workings of the American government.
"If there was ever a candidate whose leadership was worth developing, it's Maribel Estrada," said Castro.
Anyone in the community, business leaders, private citizens or service organizations that want to help make Estrada's dreams come to fruition, are encouraged to contact her teacher, Castro, at 509-305-7629. Castro and Estrada will also be available to meet the public this coming Sunday during their fundraising flower pot sale in front of Wal-Mart.
"There are not a lot of kids in her position who get this kind of opportunity," Castro said of Estrada being selected to attend the youth leadership conference back east. "I'm hoping the local community recognizes the importance of this and supports Maribel."