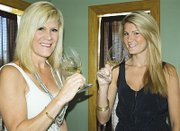 OUTLOOK - In addition to its international bulk wine sales, Outlook-based Kendall Farms is preparing to add wine classes to its repertoire.
After selling the family vineyard in 2003, Lisa Kendall started buying and selling wine grapes and bulk wines. Today it's an international business that reaches as far as China.
Now Kendall is looking to branch out a bit and offer wine appreciation classes right here in the Lower Valley. "I started spending too much time on the road," she says of her desire to work closer to home.
Kendall Farms will offer its first class this Thursday, July 21, with the theme "Making Scents of Wine." Kendall says the two-hour class will help students understand the different aromas of wine and identify wines by their aromas.
The class costs $20, which includes wine tasting. For more information or to reserve one of the 30 spots available in the class call 840-0368.
Kendall said this Thursday's class is just one of a series of monthly classes she hopes to offer throughout the year. She calls the series "drinking with a purpose."
She says she got the idea to offer the classes when she visited wineries in Virginia, where several classes and wine-related activities were offered.
"It was a lot of fun," Kendall recalls. "I decided to start something like that here."
She says some classes in the future will feature guest speakers and all will have a registration price ranging from $20 to $30, depending on what kind of wines are sampled.
Kendall noted each class is independent of the others, meaning that if a customer misses one class it won't affect their enjoyment or learning in the next class.