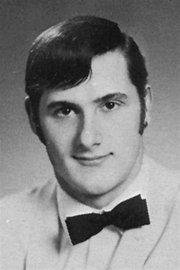 Dennis Nostrant graduated from Sunnyside High School in 1971 and eight years later suffered a motorcycle accident that changed his life.
Now a Dayton resident, Nostrant received several blood transfusions following the serious accident. Unknown to Nostrant or his doctors, one of those transfusions caused damage to his liver that went undiagnosed until earlier this year.
Today he is in need of a new liver, and needs help to pay the $350,000 in transplant costs he will face when a donor is found. Nostrant is currently 13th on the national liver waiting list.
His mother, Helen, says he has especially been sick for the past three years and doctors at first thought he had leukemia before discovering his liver disease.
She said he was diagnosed with end stage liver disease on April 18, 2011. Her son's life-changing motorcycle accident happened on April 18, 1979.
"If we could get past April 18 we'd have it made," Helen smiled.
Dennis Nostrant has insurance, but $350,000 is the amount that is needed on top of the medical coverage, according to Helen.
To help Nostrant with his transplant expenses, several fundraisers are planned.
One fundraiser is set for this coming Saturday, July 23, when a dinner and silent auction will be held from 6 to 8:30 p.m. at the Waitsburg Fairgrounds.
The cost is $10 for adults and $5 for children six and under. The meal will include pulled pork sandwiches, potato salad, cole slaw, baked beans and veggie burgers.
Items for bid in the silent auction range from a half beef cut and wrapped to a round of golf with a golf cart. Other bid items include a case of wine, a quilt and original artwork.
All donations are to be made to the non-profit Northwest Transplant Assistance Fund (NTAF) in honor of Dennis Nostrant. Helen Nostrant said checks are not to be made out to him personally due to potential tax liability. She also said the transplant assistance fund is helping her son.
For those who would like to help directly, mail checks to NTAF, 150 N. Radnor Chester Road, Suite F-120, Radnor, PA 19087.
Checks should be made payable to NTAF Northwest Liver Transplant Fund and note in the memo section that it is in honor of Dennis Nostrant.
For credit card contributions call 1-800-642-8399 or visit www.ntafund.org and enter Dennis Nostrant in the "find a patient" box on the home page.