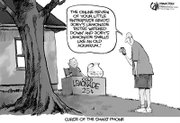 I remember growing up without cell phones being so widely popular as they are today.
My children, however, are growing up in a cell phone dependent society.
I admit two of my children have cell phones. The purpose of the cell phones is to allow me to keep tabs on them. Between our hectic schedules, it only makes sense.
What I don't like is the fact that cell phones are such a fabric of our lives that there is rarely a venue in which I don't see someone with their phone attached to their ear. Often that means they are text messaging another person.
I carry a cell phone and maybe make or receive one phone call in a day. I am not so dependent upon the device that I am constantly gabbing on it or texting away.
Maybe I am what some call "old school." Maybe not.
I choose to believe I can get through the day using traditional means of communication. I carry my cell phone so my loved ones can call me only when absolutely necessary.
Occasionally it is useful in my work, but in spite of it being a "smart phone" I haven't downloaded several "apps." I have the least expensive data plan only because I am required to have one with my cell phone.
That is another issue...I don't understand the need for all the applications. I have yet to discover their use in my day-to-day living. To me, they are just something that is distracting. I once believed there might be a benefit to owning a smart phone, but haven't discovered it yet.
I understand some corporate lawyer needing a planner on their Blackberry device. I understand there are some who truly depend on their smart phones to help them stay organized. For them, it is all completely relevant.
However, I don't understand why parents purchase these very expensive phones for their teens. My teen certainly goes about his daily routine without an iPhone or Blackberry. Like me, he hasn't any need for the applications that come with a smart phone.
The device is merely for communication purposes. He can call or text whomever he needs to in order to coordinate plans...especially myself or his father.
However, this society has become so reliant upon these small computers. Some of us resist, staying "old school" while others just keep up with the times.
In the meantime, I will continue to hold on to my own set of values and make my children abide by them until they can afford a smart phone of their own.