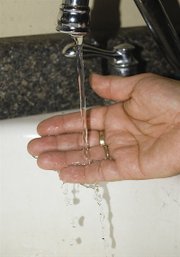 OUTLOOK - Owning a home is a sense of pride for most families. Having a luscious, green yard to accompany it is a luxury most people can afford. That is if you don't live in Outlook.
Residents of this small community west of Sunnyside have been beset with gang violence. But another nuisance has reared its ugly head these past few months, the nuisance of not having enough water to satisfy basic needs.
"We don't have water," said Mary Alaniz, who has lived in Outlook for the past 30-plus years.
Her neighbor, Erica Flores, agrees. The 12-year native claims the water trickles out of her pipes. Worst of all, the water stinks and has sand in it.
The smell is easily explainable. Many wells, both private and those for community use, have water high in sulfur. This causes the good old 'rotten egg' smell. The fact that there is sand in the water is more of a mystery.
"The pump puts out 80 gallons per minute 24/7," said Jesus Madrigal, owner of the Outlook Water District. "This causes the water table to lower and I think that is when the sand is sucked up. The water table needs to rise to keep the sand out of the system."
That's just a theory Madrigal has. One thing is for sure, the water quality is tested once a month by the Department of Ecology and the water is clean.
That's a statement echoed by Yakima County Commissioner Rand Elliot, who represents District 3 in Yakima County.
"It's a good well, clean and sanitary," he said.
However, although the water is safe and clean, it doesn't bode well with the Outlook residents who have very little of it.
"There are times we have no water at all," Alaniz said.
Sure enough, when the Daily Sun News visited Alaniz's house, she turned her water faucet on full blast. The result was a trickle of water.
"It takes me all day to do one load of laundry," she added.
To add insult to injury, the water bill for Outlook residents was raised $5 this month, from $25 to $30.
Several people turned out at Alaniz's house to speak with the Daily Sun News about this problem. They all agreed to one thing, charge them more money, but at least let them have water.
One resident, Dora Islas, fills up a large bucket of water so she can take a shower using a small cup.
The water shortage doesn't affect everyone. Norma Borrego has decent water pressure. The only problem, she has to turn off every other faucet to run one.
Madrigal understands the frustrations of his customers. He believes there are some people that are illegally hooked up to the system, which drains pressure from paying customers. He is in the process of trying to identify those who are hooked up to the system and are paying and those who are hooked up, but not paying.
He admits the system is old. There are leaks throughout the piping, but he said he has been working to fix those and believes he has a handle on the problem.
One culprit, he said, is that people use the community well water to irrigate their yards.
"Some customers that are near the top of the line use the water to irrigate," he said. "They're taking all the water. The water is not for irrigating, it's for drinking."
Elliot said the county is sympathetic to Outlook's needs, but it's not a county problem. People in rural counties usually drill their own well, something Elliot admits can be expensive.
"Solutions are not easy, they take time to gather funds," he said. "We don't have any authority over community systems," he added. "Homeowners are technically responsible for their own water supply."
The county has helped communities before. A new system was installed in the Parker area and should be online sometime this summer. But Elliot said it took years for the funds to be secured.
"We've made some overtures and attempts to improve the water system in Outlook," Elliot said. "If money becomes available we'll have to do something about the sewage problem first."
Elliot said the residences in Outlook are on a septic system and with the high water table in the area it could pose a problem.
"It's a pretty expensive proposition," he said. "There are no immediate or short term solutions that are available to us from Yakima County.
"We're not insensitive to their problem, we're making efforts to provide assistance if we can."
One such solution would be for the city of Sunnyside to extend water and sewer services to Outlook. But that would cost money, money the city doesn't have.
Sunnyside Public Works Director Jim Bridges said the city would need to go to the county commissioners to get grant money to offset any costs the project would take. At $40 a foot to extend water and sewer pipes to Outlook, the project would be in the millions of dollars. Outlook is several miles from Sunnyside, not including all the miles of pipe it would take in the Outlook community itself.
The community of Outlook would need to ask for the city of Sunnyside's help first, then a plan to get the water out there would need to be hammered out.
Elliot said the water delivery system needs to be upgraded. That's something Madrigal agrees with.
"The system is collapsing from being old," he said. "Some parts inside of the homes are not working."
Since he bought the Outlook Water District in September of 2010 he's dumped a fair amount of money into the system, something he was not prepared to do. But he is upgrading the system and is hoping to have some improvements very soon.
First and foremost, he said, is that the community needs to realize what they're facing.
"If people would stop irrigating their yards, this would help to solve the problem," he said.
He wants to talk with community members to try to explain the problem. He encourages people to call him at 509-949-8364 so he can discuss the situation with them. He also wants to get a better handle on who is hooked up to the system, knowledge that will help in getting the system running efficiently again.
But for the residents at the end of the line, those getting a trickle of water coming from their pipes, the fix won't come soon enough.