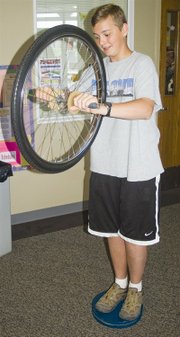 Sunnyside-area students gained hands-on experience with light and sound waves during a demonstration this past Monday at the community center.
The demonstration was on display by LIGO of Hanford in partnership with Sunnyside's Promise.
LIGO (Laser Interferometer Gravitational-Wave Observatory) is a project based at the Hanford Observatory and is sponsored by the National Science Foundation. Its focus is a search for gravitational waves from outer space.
Monday, LIGO's traveling exhibit was at the Sunnyside Community Center to give students an up-close look at the research.
Whether it was playing with light waves or seeing sound waves, students had several experiment stations to review. They also had a chance to play with gravitational pull.
Dale Ingram works with LIGO and was here in Sunnyside. He said the purpose of the LIGO research at Hanford is to better understand major occurrences in space, such as black holes colliding or star explosions in space.
While the research focuses on outer space, Ingram said LIGO could eventually provide some technological advances here on Earth.
Since the work is funded by tax dollars, he said any technical or industrial progress would be shared in the U.S. public domain.
Some of the experiments students enjoyed Monday altered the way they look at sound and light.
"This looks like a Pink Floyd album cover!" exclaimed Jerry Orozco as he peered through one color-distorting exhibit.
Meanwhile, Itzel Alvizo got a serious giggle out of one experiment which, by peering through prisms, made her teeth look gargantuan.
Ingram says those giggles and exclamations of discovery are exactly what LIGO wants to hear with its traveling experiment stations.
"We want to give kids an enjoyable experience with wave science," he smiled.