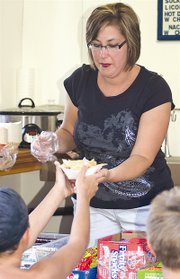 There's nothing like a good swim to work up an appetite.
Not surprisingly, then, the volunteer-operated Snack Shack keeps busy when the Sunnyside Sharks swim team has its home meets at the city pool.
One of those hard-working volunteers is Amy Davis, who is in her fifth year working at the Snack Shack.
Davis has two daughters in the Rotary-based swim program here.
"It's my way of contributing to the team," Davis smiles during a pause between serving swimmers and their parents.
She says the best part of her volunteer job is visiting with the swim families when they stop by for a snack.
Those snacks include a wide variety, from nachos to burgers. Davis says the crowd favorites appear to be the loaded baked potatoes and snow cones.
"The baked potatoes are my favorite," she adds. "They're huge."
Combine hungry swimmers with temperatures in the 90s, and the foot traffic to the Snack Shack is steady all night long.
Davis says that traffic is the most challenging part of working at the Snack Shack for her and the many volunteers who keep it running.
"When the lines are long you're trying to be quick to get everyone served," Davis smiles.
She might not be poolside to cheer on her daughters and the rest of the Sharks, but Davis likes her Snack Shack perch just fine.
"It's the best seat in the house," she says. "You get to see everybody."