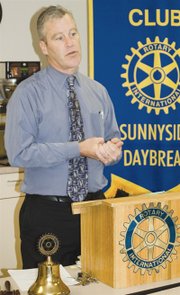 "You can't do economic development alone, you need partnerships to expand business," that was the advice this morning, Wednesday, by Yakima County Development Association CEO David McFadden.
The comments were made during McFadden's presentation to the Sunnyside Daybreak Rotary Club.
He said his agency, which is also known as New Vision, has partnered with utilities like Pacific Power and Cascade Natural Gas, for example, to help attract new business and industry to the valley.
Partnerships are even more important with the recession hurting economic development nationwide.
McFadden said his office used to see 12 companies a year visit Yakima County to explore the possibility of expanding or relocating here. "With the recession we've had 10 visits in the last three years," he said.
He said the recession combined with a global economy that draws some U.S. businesses to relocate overseas, makes for a challenging time in attracting new business to the area.
As a result, McFadden said a key for economic development here is to not only attract business, but work to retain business and industry already located here.
Agriculture, food processing, health care and distribution warehouses are some of the industries McFadden said the Valley can build on for jobs and the economy.
He said the Sunnyside area also has an advantage in the form of relatively inexpensive power rates and an abundance of water. Those two pluses, McFadden says, could help the city someday land hi tech industry here.
He cautions that power here is still twice what it costs data centers to locate in Grant County, but notes Sunnyside could eventually be a contender with power, water and an available work force.
New Vision celebrated its 25th anniversary last year, attracting 40 companies and 2,000 jobs to the Yakima Valley during its history.
McFadden says the non-profit is turning a new page, though, as it looks to support entrepreneurs throughout the valley.
"We need to strengthen the safety net for entrepreneurs in the Lower Valley," he said.
New Vision, he adds, is also increasing a presence for the Yakima Valley on the internet to not only attract business, but employees to locate here.
"When we're recruiting someone there's no one place online for them to go for information about living in the Yakima Valley," McFadden said.
The result is a website New Vision has created at liveyakimavalley.com that provides information about valley living.
All of the local efforts for economic renewal will help, but McFadden said the state and national outlook need to improve. Washington state's tourism office, for example, has had its budget cut.
"We're seeing some (economic development) activity here, but it's a lot different than it was five years ago," he said. "Let's hope for an economic renewal."