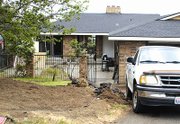 Accounting for more than a third of all new building valuation, the makeover of Safeway's pharmacy led the way in building permits city officials issued last month.
According to a building permit issued in June, work on the Safeway remodel is valued at $125,000. The pharmacy expansion generated $1,884 in permit fees for the city of Sunnyside.
For the entire month of June new building valuation in Sunnyside was only $345,350. The city's coffers received $6,092 in building fees last month.
Building officials here issued 23 building permits in June and more than half of those, 12, were for re-roofing projects.
The biggest of the re-roofs was $47,420 to re-roof an office building at 910 Franklin Ave. #1.
Another sizeable roofing project green-lighted last month was the Sunnyside Grace Brethren Church at a cost of $23,000.
The 12 re-roof projects last month have a total combined valuation of $106,000. Together they netted $1,985 in fees.
After the Safeway pharmacy remodel, the second biggest building start given a thumbs up last month was a project to repair fire damage to a home at 312 Grandview Ave. The project, valued at $60,000, also included a remodel of the home's interior.