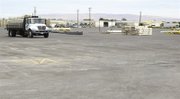 The supply yard that used to hold nearly 11 million pounds of pipe is almost empty. Just a few bundles are left in the yard at JM Eagle in Sunnyside. But despite rumors the plant is shutting down and leaving town, the manufacturing plant will be in Sunnyside for a long time to come, according to JM Eagle officials.
"We're not shutting down," said Marcus Galindo, spokesperson for JM Eagle. "Our plants go through cycles, that's just the way the industry is."
There definitely is a downturn at the plant. Normally there is between 30 to 50 employees working, but it's down to just seven.
There are a few reasons for this, explained Galindo. First, there has been a resin shortage this year overseas. There are several reasons for this, but two are the tsunami in Japan and the other is a resin producing plant in the Philippines was shut down for 30 days.
Resin from overseas is made from petroleum. Resin in the United States is made from natural gas. Because of the problems in Asia, Galindo said the prices of pipe were driven up. Because of this American companies made a lot of money selling pipe overseas.
"We dealt with it the best we could," Galindo said. "All of our stock was taken up."
The mounds and mounds of pipe one normally saw in the JM Eagle stock yard was already spoken for and the new pipe being created was already bought and sold before it hit the yard.
He said with how the construction cycle works, companies have mostly already purchased their pipe they will use until winter shuts down construction.
With the downturn in the construction cycle, combined with the resin shortage, Galindo said the Sunnyside plant will use the coming months to complete upgrades to machinery and perform maintenance.
Galindo said JM Eagle is the largest manufacturer of plastic pipe in the world. The Sunnyside plant mostly produces pipe for agriculture projects, such as water transmissions and distribution lines.